Amnesty seekers throng consulates in Dubai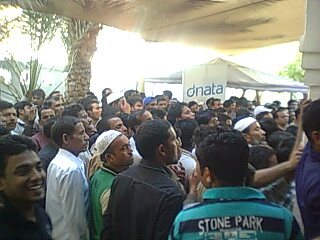 With only one week left for the end of theUAE Interior Ministry's amnesty scheme for illegal residents, centres handling amnesty applicants are getting overwhelming response as Bangladeshis, Indians, Pakistanis and other nationalities come in large numbers to take advantage of the scheme.
A visit to the Bangladesh Consulate in Deira, Dubai indicated that about 3,000 people had approached the Consulate on Tuesday, majority of them illegal workers.
During the seven months up to September 2012, 7,000 out passes were given to illegal Bangladeshi workers.


"For the past two weeks, about 3,000 illegal workers are coming per day. The vast majority of the people assembled here now have come for getting out passes," said a staffer manning one of the Bangladesh Consulate's counters.
"Amnesty applicants are gathered inside the small compound of Villa No. 24 or Abdul Aziz Al Mulla Villa in the Al Muteena area of Deira. A large number of illegal Bangladeshi workers come from other emirates like Sharjah and Ajman to the Consulate in Dubai," said the official.
The Consulate has already issued several thousand out passes, though the exact number has not been revealed.
"I came here on a free visa and my employer absconded. I did not have a passport. Now I have come to get my out pass. I will go back to Bangladesh," said an amnesty applicant standing in the queue.
Out pass applicants were also resting under trees or on sofas provided by the consulate or on the pavement outside the consulate building. An official said about 1,000 people could be reaching the consulate per day only for amnesty-related issues.
More than 40,000 illegal Bangladeshi workers took advantage of the previous amnesty in 2007 and, according to official estimates issued by the embassy, 20,000 people are likely to benefit from the current amnesty scheme. Most of the out passes are issued in Dubai.
"My business has been good because hundreds of Bangladeshis are coming to the Consulate for out passes. Visitors from Sharjah, Ajman and other parts of the UAE are also coming to my shop," said a grocery owner in the neighbourhood of the consulate.
Some Bangladeshi women, especially housemaids, are also coming to the Consulate to get out passes.
About 40,000illegal residents of all nationalities have got out passes till January 13 during the current amnesty scheme, majority of them Bangladeshis.
"We have blacklisted many recruitment companies that were bringing people on visit visa. Now, these people have a chance to go back to Bangladesh," a consulate official said.
"The number of applicants reaching the Al Aweer amnesty centre has gone up substantially. Today, there were more than 3,000 applicants of different nationalities, especially from Bangladesh, India and Pakistan. The number seems to be growing as many who were having second thoughts about the amnesty scheme, are now coming forward to take out passes," said Uma Padmanabhan, an Indian social worker stationed in the Al Awir amnesty centre.


Follow Emirates 24|7 on Google News.