App to detect birth defects in UAE infants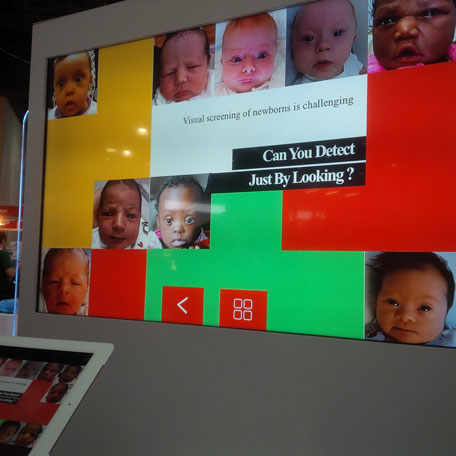 Life-saving care for newborns with congenital birth defects will now be more accessible for UAE residents via a new app that can detect anomalies via a simple image capture.
The technology is currently under the research phase at Al Qassimi Hospital, Sharjah with the pilot project having tested 250 babies with its new mGene app.
The know-how is part of the Memorandum of Understanding between the UAE's Ministry of Health and The Children's National Hospital and its Sheikh Zayed Institute in Washington DC.
The announcement was made at the ongoing Arab Health Exhibition Congress in Dubai.
"The collaboration is over two innovations in paediatric care: one would be the application of heart sound analysis to detect defect in the hearts of the baby or its unborn foetus," said Kurt D Newman, President and CEO of Children's National.
"The second would be the mGene app, which will capture a newborn's facial photo from different angles and would be able to decipher whether the child is at high or low risk for a congenital birth defect."
At its trial phase, 250 newborn babies have taken part in this pilot project which could prove detrimental at saving their lives.
Currently, the makers say the app comes with 95 per cent accuracy rating.
"The project is in its pilot phase, as the genetic facial structure has to take into account the various ethnic backgrounds that could pass through the hospital," said Newman.
The app itself captures a picture of a baby and scans its facial structure to locate birth defects.
"Sometimes a baby appears perfectly healthy and only the trained eye of its physician can perhaps detect an anomaly. This app rules out margin of error and saves lives," Newman added.
Follow Emirates 24|7 on Google News.