Arab Women's Day Google Doodle video: #OneDayIWill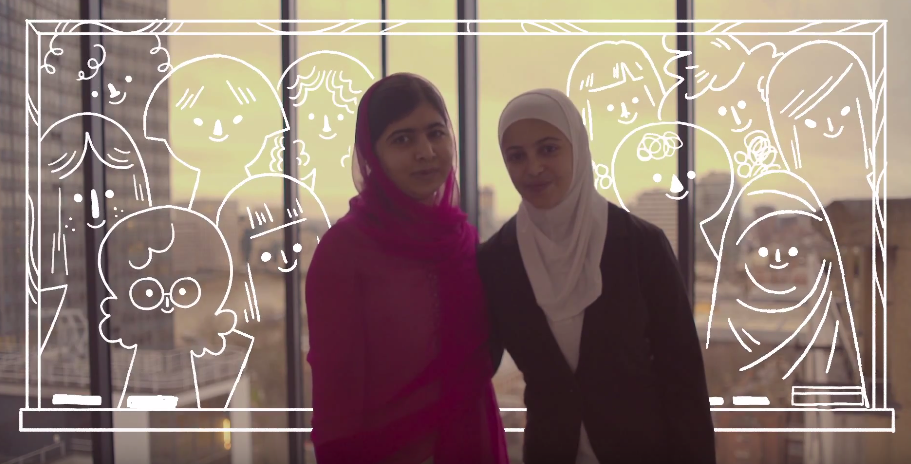 Today, March 8, is International Women's Day, with the 2016 campaign theme being 'Pledge For Parity'.
To mark this year's International Women's Day, Google says it collaborated with 25 Egyptian women for a special 'Doodle' to help them voice their hopes and dreams.
This special video which was shot in Cairo and 12 other iconic cities around the world features Egyptian celebrity Donia Samir Ghanem who appears alongside international symbols of successful women such as Nobel laureate Malala Yousafzai and celebrated scientist Jane Goodall.
They all share their hopes by completing the sentence: "One day I will…"
Google says that, over the years, Doodles have commemorated the achievements of women in science, civil rights, journalism, sports, arts, technology and beyond.
"It's always an honor to pay tribute to women who have changed the course of history, sometimes in the face of seemingly insurmountable obstacles. But for this year's International Women's Day, we wanted to celebrate the Doodle-worthy women of the future," it says.
Internationally, Google visited 13 countries where it spoke with 337 women and girls and asked them to complete the sentence, "One day I will…"
From toddlers to grandmothers, the women in San Francisco, Rio de Janeiro, Mexico City, Lagos, Moscow, Cairo, Berlin, London, Paris, Jakarta, Bangkok, New Delhi and Tokyo all sparkled with personality, says Google.
"Each new city brought more "One day I will"s, more signature dance moves, more hugs, more high-fives. The aspirations we heard were as varied as the women and girls who shared them, from the very personal to the very global and everything in between. When it was done, we found that our own "One day I will…"s had grown bigger and richer, inspired by the women we had met," the search engine says.
Commenting on her participation in the special doodle by Google, Donia Samir Ghanem said: "I am happy to take part in such an important initiative such as Google's campaign for International Women's Day as it is an expression of the hopes and dreams of women everywhere".
Donia, whose dream was to see every woman and girl a "star in her field," is the only Middle Eastern celebrity featured in the video.
Merna El Bari, a 22-year-old Egyptian university student also featured in the video said: "The doodle idea in itself is superbly creative and shares an optimistic outlook from the heart of the Middle East with the world. I was genuinely happy to be there".
"One day I will be the first female president of Egypt," Merna says in the video.
Google also produced an extension of the global doodle video shot entirely in Cairo that takes a deeper look at the women featured in the video. The video features 25 Egyptian women who stand before the camera with the Pyramids of Giza behind them as they declare what they want to be one day. Users will be able to see this video once they land on a landing page developed for International Women's Day.
"Cairo, along with several other cities around the world, were selected to represent a diverse set of women from different countries, all with different dreams, ethnicities, ages, languages, walks of life. We wanted to feature as many women as possible, so we created special city edits to share the dreams of as many women as possible!" Zain Masri, Product Marketing Manager for the Middle East and North Africa, said.
"Through our doodles we try to get closer to our users by highlighting key events close to their hearts. Over the past few years, we celebrated the achievements of more and more women in Doodles — across, science, activism, journalism, sports, arts, technology and many other fields," Zain added.
Google says it has celebrated the lasting impact of key Egyptian female figures through special doodles throughout the years such as the ones developed for Umm Kulthum, Sohair El-Qalamawy, and Tahia Halim.
#OneDayIWill in New Delhi
Follow Emirates 24|7 on Google News.