Australia reels from once-in-a-century cyclone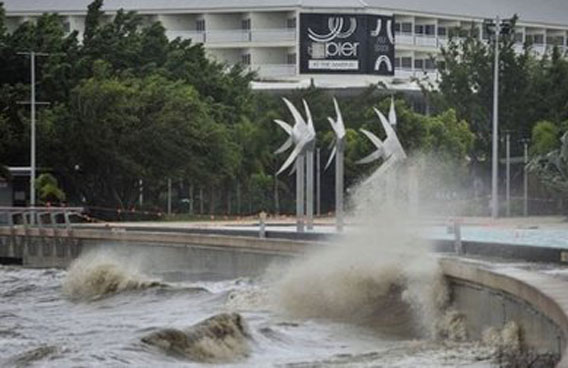 Australia's biggest cyclone in a century devastated several towns and cut power to 175,000 people Thursday, terrifying Queenslanders already reeling from months of catastrophic flooding.
There were no reports of fatalities as police scoured the worst-hit areas on northeast Australia's coast, but Queensland premier Anna Bligh warned of a sense of "despair" with some residents losing everything to the storm.
Harried Queenslanders emerged to survey the damage after Severe Tropical Cyclone Yasi ploughed into the coast at around midnight, packing winds of up to 290 kilometres (180 miles) per hour, before churning its way far inland.
Bligh warned that 90 percent of the main street in the small town of Tully, south of Cairns, had "extensive damage", while the coastal community of Cardwell suffered "significant devastation".
"Some people will be going back into their communities... and facing scenes of considerable devastation," she said.
"There are people now that have lost their homes, they lost their farms, they have lost their crops and they have lost their livelihoods and I have no doubt that many of them will experience a great sense of despair."
Regional hub Cairns, a centre for foreign tourists visiting the Great Barrier Reef, was spared Yasi's worst with problems largely restricted to fallen trees and minor damage to buildings.
But in small towns further south, families cowered as roofs were torn from homes, and some 10,500 people huddled in makeshift evacuation centres as the storm raged with a din likened to a jet engine or an express train.
Bligh said no deaths or serious injuries had been immediately reported, adding that much of the region would be breathing a "sigh of relief" following dire predictions of widespread catastrophic damage.
But she warned that a full picture was yet to emerge from a group of worst-hit towns, where mobile communications and road access remained difficult.
The maximum-category five storm, reportedly large enough to cover most of the United States and with winds stronger than Hurricane Katrina, hit a region which was ravaged in recent weeks by one of Australia's worst flood disasters.
"We were sitting at the kitchen table, we heard a ripping and off came the roof," said Scott Torrens, 37, who was sheltering with his wife, three children and father-in-law in the family home near Innisfail.
"Before we knew about it, it was gone. It happened that quick," Torrens told AFP.
Authorities warned residents to stay in their homes to avoid a second storm surge along the coast and fallen power lines, as strong winds howled.
Yasi was downgraded to category two but threatened more towns as it blew inland, and Bligh said 175,000 people were without power.
"This event is not over and there are a lot of communities in its path," she said.
The state premier said Tully's hospital had lost its roof, although its seven patients were safe. Tully cane farmer Vince Silvestro said the country town resembled a war zone.
"There's so much damage it's just incredible," he told AAP news agency. "Our crops are completely destroyed... The countryside is completely stripped, the trees, even the hospital's damaged.
"When I woke up it looked like what it would have looked like in World World II or something if the city had been bombed."
The storm's size and power dwarfed Cyclone Tracy, which hit the northern Australian city of Darwin in 1974, killing 71 people and flattening more than 90 percent of its houses.
It was also twice the size and far stronger than the category four Cyclone Larry that caused Ausê1.5 billion (ê1.5 billion) of damage after hitting agricultural areas around Innisfail, just south of Cairns, in 2006.
Queensland, a mining, farming and tourism hotspot, is still battling to recover from floods which left about three-quarters of the sprawling state under water, even inundating large parts of its capital, Brisbane.
Follow Emirates 24|7 on Google News.