Australian cyclone aftermath hits New Zealand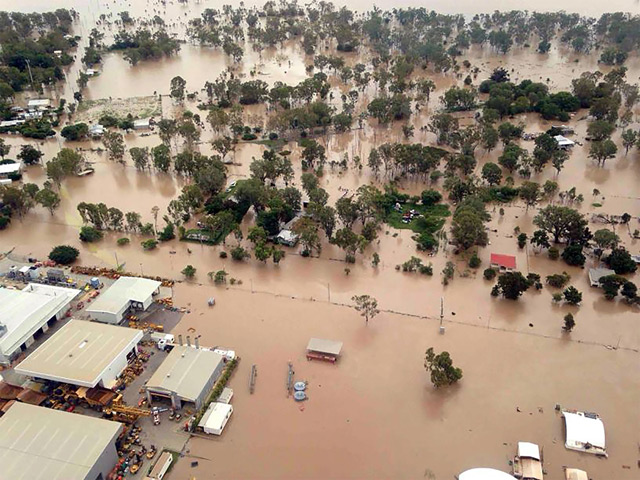 The remnants of a deadly Australian cyclone caused havoc as it passed over New Zealand Thursday, causing "one-in-500-year" flooding that forced an entire town to be evacuated.
The former Tropical Cyclone Debbie continued to pack a punch despite being downgraded to a low pressure system after crossing the Tasman Sea, dumping a month's worth of rain on some areas of the North Island in less than a day.
The major cities of Wellington and Auckland suffered flooding, power cuts and landslides amid an unrelenting downpour.
But the worst-hit area was the rural Bay of Plenty, where the 1,600-strong population of Edgecumbe was evacuated when a levee failed and the township's main river burst its banks.
Whakatane District Council declared a state of emergency, describing the disaster as an "unprecedented one-in-500-year flood event".
Mayor Tony Bonne said the emergency developed quickly, with a policeman running to warn townfolk to flee when he say the river bank was about to collapse.
"(A resident) was driving his vehicle out and looked in his rear-vision mirror and saw a wall of water going towards his home," he told Radio New Zealand.
The military was drafted in to help and Prime Minister Bill English was due to visit the devastated community on Friday.
Relief for Australian town
Meanwhile, the clean-up continued in Australia, where Queensland and northern New South Wales felt Cyclone Debbie's full fury when it roared ashore as a category four tempest 10 days ago.
There was some good news for residents of Rockhampton, where there were fears the Fitzroy River could rise to nine metres (29-feet), potentially spilling "an incredible" body of water onto thousands of properties.
But it hit a high of 8.80 metres, just short of projections but enough for the town to dodge the worst, although hundreds of homes were still inundated.
"(It's) such a huge relief for our community," local Disaster Management Group chairman Tony Williams said.
"They're telling us for the next 24 hours the river will stay at that height and should start to rapidly recede over the weekend."
But despite the reprieve and temporary levees being installed, Williams said 217 homes had "water over their floorboards".
Emergency services officials, fire crews and the army were all on standby to help with the clean-up.
Cyclone Debbie pummelled Australia's east coast last week, leaving at least six dead, causing hundreds of millions of dollars in damage and forcing thousands of people to evacuate.
More than a metre of rain fell on parts of Queensland, with the huge volume of water still slowly spilling down river systems and only now reaching Rockhampton.
Follow Emirates 24|7 on Google News.