Australian PM, Trump offer mixed messages on refugee deal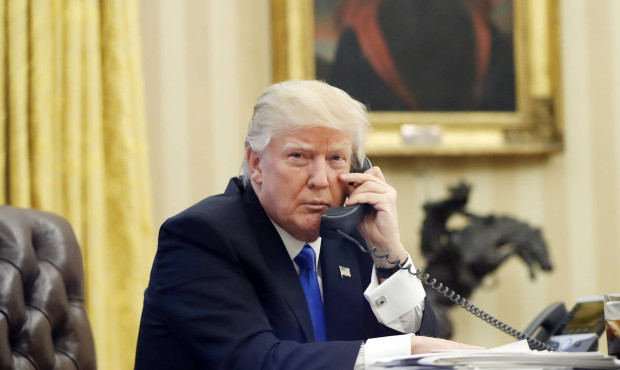 Australia's prime minister insisted Thursday that a deal negotiated with the Obama administration was still on to allow mostly Muslim refugees rejected by Australia to be resettled in the United States, even though President Donald Trump called it "dumb" and pledged a review.
The conflicting messages came as a U.S. official confirmed that the agreement became a source of friction on the first telephone call between Trump and Australian leader Malcolm Turnbull.
The official described Trump as "very strong" in Saturday's call and particularly concerned about the deal. The official denied reports that Trump hung up on Turnbull, but acknowledged the call was shorter than Trump's other discussions with world leaders. The call ended after less than 30 minutes, well earlier than scheduled.
The U.S. official was not authorized to publicly discuss the conversation and spoke on condition of anonymity.
Trump, in a speech Thursday, appeared to acknowledge the tense phone call, as well as tough talk in an earlier call with the Mexican President Enrique Pena Nieto.
"Believe me. When you hear about the tough phone calls I'm having, don't worry about it. Just don't worry about it," he said at the National Prayer Breakfast in Washington. "They're tough. We have to tough. It's time we're going to be a little tough folks. We're taking advantage of by every nation in the world virtually."
Hours before Trump spoke, Turnbull told reporters in Australia that the strength of the U.S.-Australia relationship was evident by the fact that Trump had agreed to honor the deal to resettle refugees from among about 1,600 asylum-seekers, most of whom are on island camps on the Pacific nations of Nauru and Papua New Guinea. Australia has refused to accept them and instead pays for them to be housed on the impoverished islands.
"I can assure you the relationship is very strong," Turnbull said. "The fact we received the assurance that we did, the fact that it was confirmed, the very extensive engagement we have with the new administration underlines the closeness of the alliance. But as Australians know me very well: I stand up for Australia in every forum — public or private."
It wasn't long before Trump took to Twitter to slam the deal.
"Do you believe it? The Obama Administration agreed to take thousands of illegal immigrants from Australia. Why?" Trump tweeted. "I will study this dumb deal!"
Details of their call were first reported by The Washington Post, which said Trump called the refugee agreement "the worst deal ever" and accused Turnbull of seeking to export the "next Boston bombers" — a reference to brothers Tamerlan and Dzhokhar Tsarnaev, who were born in Kyrgyzstan. Dzhokhar Tsarnaev is a U.S. citizen; Tamerlan Tsarnaev, killed in a shootout with police several days after the April 2013 bombing, had sought citizenship but had not had his application granted.
The Trump-Turnbull call took place a day after Trump signed an executive order suspending the admission of refugees. During the call, Trump complained that he was "going to get killed" politically by the refugee deal with Australia, according to the Post, citing anonymous officials.
"I don't want these people," Trump reportedly said. Trump also told Turnbull that he had spoken to four world leaders that day and that: "This is the worst call by far."
Trump told Turnbull that it was "my intention" to honor the agreement, a phrase designed to leave the president wriggle room to back out of the deal, the newspaper reported.
There have been mixed messages from Washington all week on the state of the agreement.
White House spokesman Sean Spicer confirmed on Wednesday that Trump had agreed to honor the deal.
But a White House statement sent to Australian Broadcasting Corp. on Thursday said: "The president is still considering whether or not he will move forward with this deal at this time."
The State Department said in a statement later that the United States would honor the agreement "out of respect for close ties to our Australian ally and friend."
"President Trump's decision to honor the refugee agreement has not changed and Spokesman Spicer's comments stand," the State Department said.
Turnbull has likened himself to Trump in that both are wealthy businessmen who came to politics late in life. Turnbull also has a reputation for blunt conversation and tough negotiations behind closed doors.
Turnbull has resisted pressure this week to join other Western leaders in condemning Trump's temporary ban of immigrants from seven Muslim-majority countries.
Some observers suspect Turnbull has held his tongue because he is grateful to Trump for agreeing to honor the refugee deal.
Follow Emirates 24|7 on Google News.