Ban on use of hoverboard in public places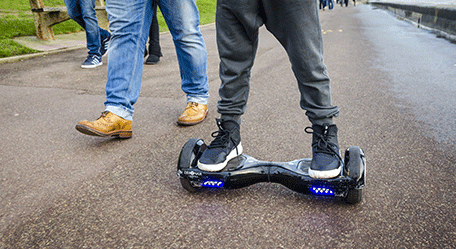 The Dubai Municipality has prohibited the usage of hoverboards in public areas, reports Emarat Al Youm.
Users will not be allowed to ride these self-balancing scooters in shopping malls, residential complexes, public sidewalks, roads, dedicated to the public and the walkway, according to the director of the Department of Health and public safety in Dubai Municipality, Engineer Marwan Al Mohammed.
He pointed out that in case of any violation the device will be confiscated.
Engineer Marwan Al Mohammed told Emarat Al Youm that the municipality has noticed the erroneous uses of hoverboards, which led to a number of injuries recorded by Dubai police, explaining that the malpractices pose a risk to users of the machine and people close to them.
He pointed out that the Dubai Municipality communicated with Dubai police and Department of Economic Development to develop a better requirements and follow-up, and to prevent the erroneous use.
The device is powered by an electric motor fed by lithium batteries, allowing riders to control the gadgets at speeds of more than 15km/h.
According to Al-Mohammad users should wear personal protective equipment (helmets, knees and elbow protectors) and advices use of these machines in the assigned places.
The safety issue regarding hoverboards came under the spotlight after the death of a six-year-old Emirati child who was run over by a car in Abu Dhabi last October while travelling on a hoverboard.
Dubai Police have also recently recorded the first death of a Filipino when his head hit a street light pole after he fell from his scooter in the parking area of Mushrif Park in Dubai.
Police have also recorded incidents of people suffering injuries and fractures while riding such devices.
These balance wheels are battery-powered boards which resemble a skateboard or a mini Segway without a handle.
Following the incident, Dubai Police warned hoverboard owners to stay off roads, pavements and car parks while riding their devices.
Follow Emirates 24|7 on Google News.