Bangladesh showdown as opposition leader locked in office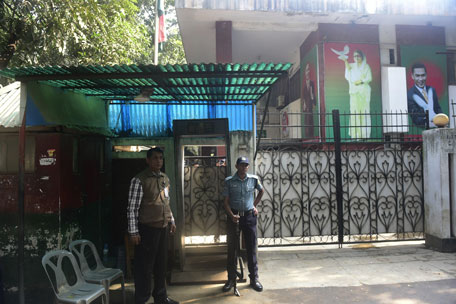 Bangladesh faced a showdown Monday on the first anniversary of controversial elections, as the opposition leader called for mass anti-government protests despite being confined to her office.

Twelve months on from Prime Minister Sheikh Hasina's re-election in what was effectively a one-horse race, her arch rival Khaleda Zia has called for supporters to mobilise for "Democracy Killing Day".

Zia, leader of the main opposition Bangladesh Nationalist Party, has urged activists to take to the streets in their thousands as part of a campaign to force Hasina to hold fresh multi-party polls.

Amid sporadic violence in several towns and cities, authorities banned all protests from Sunday evening while Zia has been locked in her office since Saturday night, according to senior lieutenants.

The two-time former premier refused to take part in the elections on January 5, 2014, fearing they would be rigged in the absence of a neutral caretaker administration which had organised previous polls.

The boycott by the BNP and its allies meant a majority of members in the 300-seat parliament were returned unopposed, ensuring Hasina's Awami League party another five years in power.

In seats where there were contests, the only challenge came from independents or small parties which were loyal to Hasina.

Voting was overshadowed by firebomb attacks on polling booths and clashes between police and opposition activists, which left around 25 people dead.

Many of the BNP's top leaders have since either been detained or charged in connection with the election violence, hampering efforts to press their case for new polls.

Although Zia has not been officially arrested, police cordoned off her office in the capital's upmarket Gulshan district Saturday and prevented her from leaving as she tried to visit a sick colleague.

BNP headquarters in central Dhaka was padlocked by police at midnight on Saturday, with police vans barricading nearby roads.

BNP officials said at least 400 party supporters were arrested, including two senior party figures, ahead of the poll anniversary.

Scuffles broke out near Zia's office Sunday when a former president, Badruddoza Chowdhury, was turned away from meeting her.

"She is confined. It's an insult to democracy," he said.

Zia's aide and lawyer Khandakar Mahbub Hossain did manage to meet her on Sunday, telling reporters afterwards that she had asked people to "continue protests until the government is toppled".

The violence on election day last year was the culmination of the bloodiest year of political unrest in Bangladesh's short history, with tensions also heightened by the death sentences handed down to leading Islamists over their role in the 1971 independence war.

More than 500 people were killed in political violence in 2013, making it the bloodiest year since Bangladesh split from Pakistan.

While not on the same scale as a year ago, there were several eruptions of violence in towns over the weekend as police fired rubber bullets and tear gas at hundreds of opposition activists.

At least 10 people were injured across the country, police said. In Dhaka more than a dozen vehicles were torched and damaged.

Some bus and ferry services heading to the capital were also suspended at the weekend in a move that is likely to reduce the number of protestors in Dhaka.

Follow Emirates 24|7 on Google News.