Bin Laden's widow won't remarry: relative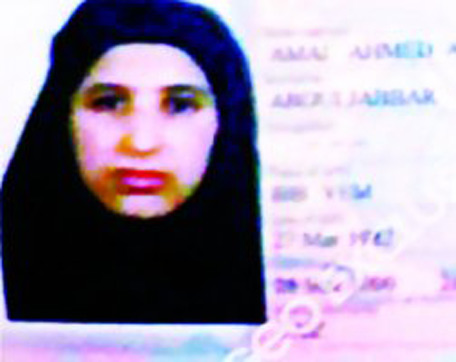 A Yemeni widow of terror mastermind Osama bin Laden who was killed by US elite forces in north Pakistan early last month will not marry again once she returns home in Yemen, her cousin has said.
Amal Al Sadah was nearly 17 years old when she agreed to marry bin Laden who posed as a merchant from the southern Yemeni province of Hadramout in 1999 before he became one of the most notorious men following the 2001 September 11 deadly bombings in the United States.
Before marriage, Amal told her cousin Waleed that her dream was to enter history but he gave her a mocking response. When he said how an uneducated woman would enter history, she simply replied history is not only for men.
In an interview with the London-based Saudi Arabic language daily Alhayat and Sabq newspaper, Waleed al Sadah said his family is making contacts with the Pakistani authorities to release Amal and get her back home in Yemen.
He also cited his uncle as saying after meeting bin Laden in his home cave in Afghanistan following his marriage of his daughter that bin Laden never trusted Arabs following what he said were numerous assassination attempts.
"We are exerting efforts to bring back Amal and her daughter…when she comes back, she will stay at her father's home and will not be mixing with others…I am sure she will not marry again…she will try to have a normal life and perhaps some people will try to use her by seeking to marry her…but I don't think she will accept any one even if he is (Yemeni President) Ali Abdullah Saleh," he said.
Amal is bin Laden's fifth wife and lived with him till his last day. She was with him in his final moments, when he was shot by US troops during a dawn operation in his hideout in north Pakistan at the start of May.
Amal gifted Bin Laden with a daughter a few days after he killed more than 3,000 people by attacking the twin towers of the World Trade Centre in 2001.
The baby was named Safiya. Bin Laden reportedly said the name was inspired by a person that killed a Jewish spy during the Prophet's time. He hoped his child will kill "the enemies of Islam".
There has not been conclusive proof on whether Amal and Bin Laden have more children. However, it is more or less clearly established that bin Laden has at least 20 children from five wives.
Waleed said he had been brought up with Amal at the same home and that she had left school at early age although she did not stop reading books at home.
"She used to tell me that she would enter history…once, I laughed and told her that her history is the kitchen," he said.
"She replied jokingly 'well history is not only for men'….I then thought how she would enter history without education or proper qualification….I later told her 'my cousin…I am sure that you are just dreaming."
Recounting how bin Laden married Amal, Waleed said the Saudi extremist was in Afghanistan when his friend Mohammed Al Baani came to Yemen and married Amal's elder sister. He said that Al Baani later flew back to Afghanistan with his wife and introduced her to bin Laden.
"When Osama saw that his friend is happy, he asked him about it…he told him that he is happy because he married a good wife from the famous Yemeni family Al-Sadah…Osama stopped at that but a while later, he thought about it….he then summoned his friend Rashad Mohammed Saeed and asked him to go to Yemen and get him a wife from Al-Sadah family," Waleed said.
"Saeed went straight to Yemen in 1999 and met Amal's father…he told him about a merchant from Hadramout who wants to marry his daughter Amal…when her father asked about the groom's name, Saeed told him that it was Osama bin Mohammed bin Awad bin Laden…bin Laden was not a known person at that time so Amal told her father she accepts him as a husband."
Waleed said he still remembers that his uncle, Amal's father, later flew to Afghanistan to see his daughter and her new husband.
"When he came back, he told me that he had to stay in Pakistan for weeks before he was to be escorted to Afghanistan…he said he had been pursued by some persons and that he expressed his resentment about this treatment when he met bin Laden in a tent at the bottom of a massive cave," he said.
"He told me that he found his daughter very happy despite the harsh lifestyle there…he said Osama kept thanking him for the good upbringing of his daughter…Osama never stopped thanking my uncle although she was a normal girl…..perhaps this is because Amal was young when he married her and had not expected her to adapt to the lifestyle he was having."
Waleed quoted his uncle as saying bin Laden was extremely careful and had his gun with him all the time. He was also a suspicious person.
"Bin Laden had even suspected that my uncle could have sent spies after him…my uncle got mad and said to Osama ;'how could you think that I might harm my own daughter and come to target you and her," he said.
"Osama tried to calm my uncle down when he told him that he did not trust Arabs….he also told him about the numerous assassination and eavesdropping attempts that had targetted him by some Arab parties."
Waleed said Osama tried to recruit his uncle to work for them but the Yemeni man refused. "Osama then said to my uncle ;'why…don't you like to fall as a martyr in the name of God…'….my uncle replied ;'I came her to see my daughter and make sure she is alright…you can fall as martyrs not me because I have left behind many children, who need me.'…..my uncle then hurried back to Yemen so they will not put further pressure on him…he was worried that they might keep him there and not let him go back home."
Follow Emirates 24|7 on Google News.