Blast in Aleppo and twin bombing: more than 800 civilians killed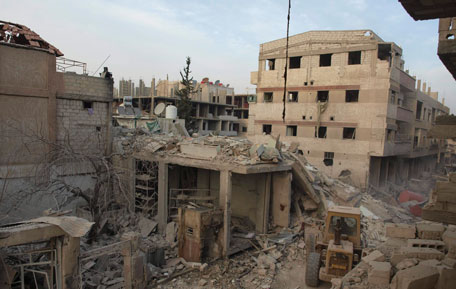 A rocket slammed into a building in Syria's northern city of Aleppo and two suicide bombers struck near a mosque in the south Friday, capping a particularly bloody week in the country's civil war with more than 800 civilians killed, including an unusually large proportion in government-held areas.
The residential building struck in Aleppo was in a part of the city controlled by regime forces, as was a university hit earlier in the week in an attack that killed 87 people, mostly students. The government accused rebels in both attacks, saying the hit the locations with rockets, a claim the opposition denies.
But if confirmed it would signal that the rebels have acquired more sophisticated weaponry from captured regime bases and are now using them to take the fight more into government-held areas in an attempt to break a monthslong stalemate in the war.
Rebels have in the past posted videos showing them capturing heavy rockets — apparently of the style fired from truck-mounted launchers — at regime military bases that they have overrun. But it is not clear whether the fighters have — or are able to — use any of the ballistics. The rebels' main weaponry are automatic rifles and rocket-propelled grenades.
Rockets would for the first time give them a greater range, an advantage that until now the regime military has overwhelmingly held, with its arsenal of warplanes, helicopters, artillery, rockets and mortars. Regime bombardment has caused heavy civilian casualties — and if the rebels start blasting back with sometimes inaccurate rockets, the civilian toll would likely rise.
But the opposition has denied being behind the Aleppo university strike and the hit Friday on the residential building, which one activist group said killed 12 people. The Local Coordination Committees of Syria, an activist group, and the Aleppo Media Center, a network of anti-regime activists, of hitting the building with an airstrike.
"It was an air raid," said Aleppo-based activist Abu Raed al-Halabi. When asked why the regime would attack a government-held area, al-Halabi said most people in Aleppo are opposed to the regime in Aleppo.
Al-Halabi said the rebels have captured some rockets around the capital Damascus but not in the Aleppo region. "If they have such missile they would have fired it at the Military Intelligence headquarters," he said.
Even if the rebels have captured surface-to-surface rockets it won't be a turning point in their battle against the regime of President Bashar Assad, said Aram Nerguizian, a Middle East security expert at the Center for Strategic and International Studies in Washington.
Such systems would "do little to erode (regime) air power, effectively target (its) infrastructure, turn the tide of the conflict or change the broader strategic picture," he said. And rebel use of rockets could backfire since "these inaccurate systems are more likely to produce either no impact or kill more civilians than Syrian military forces."
Friday's strike in Aleppo and suicide car bombings in the southern town of Daraa occurred during a particularly bloody week in Syria's nearly two-year-old conflict. Since the previous Friday, more than 1,000 people have been killed, including 804 civilians, 214 soldiers and 20 army defectors fighting with the rebels, according to the Syrian Observatory for Human Rights, a London-based activist group that gathers information from a network of contacts on the ground.
An Al-Jazeera TV correspondent was killed in Syria on Friday, the second journalist to lose his life in as many days covering the brutal civil war. Mohammed al-Masalmeh was shot to death by a sniper while covering fighting in his hometown of Busra al-Harir in the south. A day earlier, French journalist Yves Debay was killed by a sniper in Aleppo.
Around 200 civilians were killed this week in government-controlled areas. The bulk of them died in the strike on the university in Aleppo and in a mass killing Thursday in the central town of Haswiyeh, where opposition activists say a pro-government militia torched houses and killed more than 100 people.
A BBC team entered Haswiyeh on Friday and reported that it found at least five charred bodies in houses where scattered bullet casings and blood smears were on the floor. Villagers, still visibly shocked, also gave a toll of at least 100 killed, according to the British Broadcasting Corp.
Government troops and rebels have been locked in a deadly stalemate in Aleppo, Syria's largest urban center and main commercial hub, and other areas in the north since last summer. Six months later, the rebels hold large parts of the city. Still, they have been unable to overcome the regime's far superior firepower.
The residential building hit Friday was in a regime-held zone. Syrian state TV showed footage of the building with several floors collapsed, with one man carrying a baby out of the building and another man clutching his head as blood ran down his forehead. Residents were also seen looking for people buried in the rubble. At least one injured person on a stretcher was seen being carried away in a Red Crescent ambulance.
State TV said that soon after two suicide car bombs detonated near a mosque in Daraa, causing casualties among worshippers as they left from weekly prayers. TV blamed the blast on Jabhat al-Nusra, an al-Qaida-linked group which the U.S. has declared a terrorist organization but which fights alongside Syrian rebels.
State TV said both the Aleppo and Daraa attacks caused casualties but did not give an exact number. The Observatory said 12 people were killed in Aleppo and five in Daraa.
Daraa is the birthplace of the revolt against Assad's rule that erupted in March 2011. The uprising began as peaceful protests but quickly turned into a civil war after a brutal government crackdown. More than 60,000 people have been killed in the violence, according to a recent United Nation's estimate.
Also on Friday, fighting between Syrian rebels and Assad's loyalists flared in a Palestinian refugee camp in Damascus, killing 12 people and wounding at least 20 others, a U.N. refugee agency said. Children were among the casualties, according to a statement issued by the U.N. Relief and Works Agency. The agency called on both sides to "pull back from civilian areas, including refugee camps."
The Palestinian camp called Yarmouk has been the scene of heavy clashes between rebels and regime loyalists since mid-December, when opposition fighters moved into the camp during an attempt to storm the capital.
About half of Yarmouk's 150,000 residents have fled since fighting erupted in mid-December, according to UNRWA, which administers Palestinian camps in the Middle East. Some sought refuge in neighboring Lebanon, and others found shelter in UNRWA schools in Damascus and other Syrian cities.
Dozens have been killed in the fighting, although the United Nations did not provide an exact figure of casualties in Yarmouk violence, which has included airstrikes and artillery shelling from the Syrian military.
On Syria's northern border with Turkey, regime fighter jets pounded villages in rebel-held areas in Latakia province, dropping makeshift bombs made from hundreds of pounds (kilograms) of explosives stuffed into barrels, Turkey's state-run Anadolu agency said.
The Observatory reported later Friday that an air raid on the Damascus suburb of Maydaa killed at least 11 people, including a woman and four children. An amateur video showed four bloodied children who were lined near a pick group that also carried the body of an adult.
The videos appeared genuine and corresponded to other AP reporting on the events depicted.
Syrian TV reported that troops targeted rebel gatherings in the central city of Homs and killed "tens" of them.
Follow Emirates 24|7 on Google News.