Bloody clashes rock Cairo as regime stands firm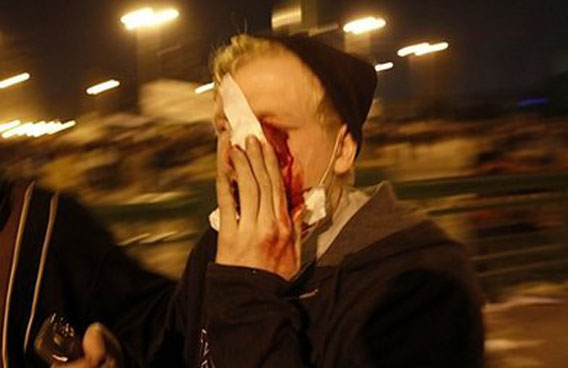 Egypt braced Thursday for another day of violence after backers of President Hosni Mubarak stormed the Cairo stronghold of anti-regime protesters, sparking clashes in which the government said three people were killed.
Washington, which has called for restraint since demonstrations broke out 10 days ago, deplored the violence against "peaceful protesters" while UN chief Ban Ki-moon said the attacks on demonstrators were "unacceptable."
The European Union added its voice Wednesday to calls from US President Barack Obama for the transition from Mubarak's three-decade-long rule to begin immediately after the veteran president announced late on Tuesday that he would not seek re-election in September.
But the Egyptian foreign ministry said such calls "sought to inflame the internal situation," while Vice President Omar Suleiman, who was appointed this week, insisted there could be no dialogue with the opposition until all the protesters went home.
From early afternoon until well into the night, regime supporters and opponents threw stones and battled with sticks and fists in Cairo's Tahrir Square, the epicentre of the nine straight days of protests that have rocked the Egyptian regime and sent shock waves around the Arab world.
Tensions had been rising from early morning when Mubarak supporters began staging their own rallies around Cairo, saying the president represented stability amid growing insecurity, and branding as "traitors" those who want his departure.
A hard core of tens of thousands of anti-regime protesters had remained at Tahrir Square through the night, angry at the 82-year-old's refusal to step down immediately in line with the demands of opposition leaders for a clean break with his regime.
Witnesses and AFP correspondents said bands of Mubarak supporters raided the square without warning, some on camels and horses, creating mayhem that quickly degenerated into violent clashes.
Regime supporters dropped concrete blocks on the opposition protesters from the roofs and balconies of surrounding buildings.
The worst of the fighting was just outside the world-famous Egyptian Museum, which was targeted by vandals last week.
Soldiers deployed in the square took cover from the projectiles after initially standing on tanks to appeal in vain for calm.
After sundown, with Molotov cocktails being thrown, troops opened up on the crowd with water hoses to disperse protesters. Two petrol bombs landed inside the grounds of the museum.
Amnesty International's Hassiba Hadj-Sahraoui rebuked the army, saying it had "failed in its commitment to protect peaceful protesters. The fact that such violence is allowed to continue as they stand there begs the question whether they have orders not to interfere."
AFP correspondents saw scores of wounded carried to a makeshift hospital in a mosque near Tahrir Square, and a medic there said the injury toll ran into the hundreds.
Health Minister Ahmed Hosni Farid told state television 639 people were wounded in the clashes in the square.
Although an AFP correspondent heard a number of gunshots and saw one young man hit in the chest and evacuated, the minister insisted: "No one was wounded by gun shots. The majority of the wounded were injured by stones."
Both sides continued throwing rocks and skirmishing into the night, with army and civilian ambulances coming to take the wounded away.
Anti-regime protesters stopped handing over pro-Mubarak militants to the army as they said they were just being released. Instead, they kept some 30 of those they captured at an improvised prison near a metro station.
The captives were badly beaten, an AFP correspondent reported.
Several foreign journalists covering the confrontations in Cairo became the target of violent attacks, a media watchdog and news organisations said.
Correspondents, photographers and cameramen reporting on the fierce clashes in Tahrir Square said that the Mubarak supporters were hostile to the press.
Media watchdog group Reporters Without Borders (RSF) said the "shocking" attacks appeared to be in revenge for the coverage of nine days of protests calling for the departure of Mubarak.
Protesters have said they will proceed with plans for a massive protest on Friday, their designated "departure day" for Mubarak.
US State Department spokesman Philip Crowley said the attacks on the protesters were a "direct threat" to the Egyptian people.
"We don't know who unleashed these thugs on the streets in Cairo... Whoever they are, there needs to be accountability here. This was clearly an attempt to intimidate the protesters," Crowley said.
White House spokesman Robert Gibbs said: "If any of the violence is instigated by the government, it should stop immediately."
Tensions rose after Mubarak addressed the nation late on Tuesday, refusing to step down immediately, the key demand of the protesters who have flooded the streets.
"My first responsibility is now to bring security and stability to the nation to ensure a peaceful transition of power," he said.
Those remarks were seized upon by Obama, who spoke to Mubarak after the speech, and announced on television that he had told the Egyptian president an orderly transition "must begin now".
Pressed after Wednesday's bloody violence on what that meant, Obama's spokesman said: "Now means yesterday.
"When we said now, we meant yesterday. What the people of Egypt want to see is not some process that starts a week, a month or several months from now," Gibbs added.
The European Union added its voice to those calls with foreign affairs chief Catherine Ashton urging Mubarak to act "as quickly as possible."
Israeli Prime Minister Benjamin Netanyahu warned that there was a battle afoot in Egypt between those who favoured democracy and those who wanted to enforce an Iranian-style radical Islamist system, that could destabilise the key Middle East peace partner "for many years."
But the State Department spokesman played down such concerns.
"We would hope that the next government of Egypt will play a constructive role in the peace process and will recognise the importance of having a peaceful relationship with Israel," said Crowley.
Follow Emirates 24|7 on Google News.