Body of filmmaker found off Florida coast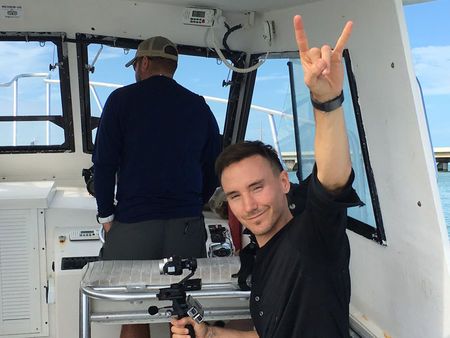 The body of Canadian documentary filmmaker and conservationist Rob Stewart was reportedly found off the Florida coast on Friday, days after he disappeared during a dive while making a film about sharks.
Stewart, 37, vanished Tuesday afternoon during a dive with three of his crew members at the Alligator Reef coral reef, some four nautical miles (seven kilometers) off the island of Islamorada.
"The body was reportedly recovered late in the afternoon," Marilyn Fajardo, a spokeswoman for the Coast Guard's Seventh District, told AFP.
"It was found about 300 feet (90 meters) from his last know position and it was found at approximately 220 feet in depth," she said.
The Key Largo Fire Department volunteer dive team discovered the body and identified it as Stewart's, although the coroner's office will officially confirm the identity.
Earlier in the evening, the US Coast Guard announced that it had suspended the search for Stewart.
Officials made no comment as to the reason for Stewart's death. After surfacing from his dive, he went underwater again before the crew's boat was able to pick him up. The other three divers emerged safely.
A biologist and underwater photographer, Stewart was filming a sequel to his best-known 2006 documentary "Sharkwater," about shark hunting and its impact on the marine ecosystem. The film won the Directors Guild of Canada award and a dozen others the following year.
"So happy to be shooting #sharkwater2 with the best cameras and equipment in the world," he wrote in his latest Instagram post three days ago. "For the first time I can show you sharks through my eyes."
The filmmaker was capturing "the personality in #shark faces that people that spend their lives with sharks truly understand," he added.
The accompanying picture shows a diver from behind, presumably Stewart, holding a camera on his shoulder.
Stewart's team is fundraising and looking for volunteers via Stewart's Twitter account to continue the search.
Follow Emirates 24|7 on Google News.