Boko Haram fighters kill 15 villagers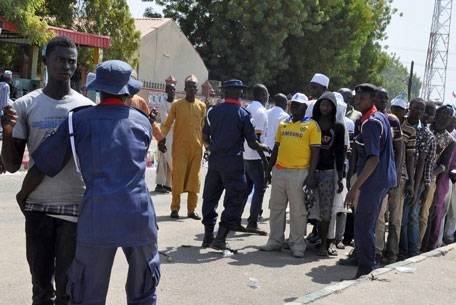 Boko Haram fighters have killed 15 villagers near Maiduguri, the city which is the epicentre of the militant group's six-year insurgency and where President Goodluck Jonathan is to launch his re-election campaign Saturday.

The killings near the embattled city took place Friday, eve of the president's visit, security sources and residents said.

"The terrorists attacked Kambari village which is less than five kilometres to Maiduguri around 5:00 am. They killed 15 people and set the entire hamlet ablaze," said a security source who requested anonymity.

"After fruitless efforts to enter Maiduguri through Konduga without success, the terrorists took a different route and attacked Kambari," he said.

A woman from the village who simply gave her name as Kyallu said four of her children were among the dead.

"They killed four of my grown-up children when they attacked our village about the time for the morning prayers," Kyallu, who is now in Maiduguri, told AFP.

"They shot my children dead without any prompting. I had to leave the village with my grandchildren because we have lost our houses," she said.

"The insurgents also killed our village head. In fact, I counted 15 dead bodies," she said.

Maiduguri and its environs in the volatile northeast have been repeatedly attacked by the extremists who began their deadly insurgency to impose Sharia in the north in 2009.

The latest attack came as Jonathan was due to launch his re-election campaign for the February 14 polls at a rally in Maiduguri. Security was beefed up ahead of the event with hundreds of armed police and sniffer dogs deployed at strategic areas.

Jonathan, a southern, faces a tough challenge from former military ruler Mohammadu Buhari, who is believed to have a cult following in northern Nigeria.

The president visited Maiduguri on January 15, his first stop there since March 2013. The visit was shrouded in secrecy.

A previous trip to the restive region in May last year was cancelled at the last minute. He had planned to visit the remote Borno town of Chibok after Boko Haram militants kidnapped 276 girls from their school in a crime that shocked the world.

Boko Haram was founded in Maiduguri in 2002 and remained largely peaceful until a police and military crackdown against its then-leader Mohammed Yusuf and his followers in 2009.

Jonathan's last visit took place before a state of emergency was declared in Borno and neighbouring Yobe and Adamawa states in May 2013.

Nigeria's military has been criticised for failing to crush the rebellion but soldiers complain they lack the arms and ammunition to fight the better-equipped militants.

Brutal raids, massacres, suicide bomb attacks and kidnappings by Boko Haram have claimed at least 13,000 lives and driven an estimated 1.5 million people from their homes, mainly in arid northeast Nigeria.

Nigeria's neighbours Cameroon, Chad and Niger have launched a joint regional bid to combat the militants and halt their advance, and officials from Nigeria and those three countries met this week to thrash out details of a new regional force to counter the Islamists.

An existing force, made up of troops from Nigeria, Niger and Chad appears to have collapsed in disarray even before a January 3 attack on its headquarters near the northeastern town of Baga.

Troops from Niger and Chad were not present during the raid, which saw Baga razed and hundreds of civilians, if not more, killed in what is feared could be the insurgents' worst atrocity.

At this week's meeting it was agreed to transfer the headquarters of the new force from Nigeria to the Chadian capital, N'Djamena, reflecting concern about Boko Haram's rising transnational threat.
Follow Emirates 24|7 on Google News.