Brazil train collision leaves 158 injured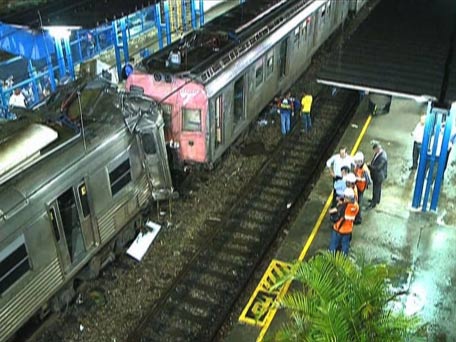 Two trains serving Brazil's much-criticized commuter rail service collided outside Rio de Janeiro, injuring 158 people, authorities said Tuesday.
The accident occurred Monday around 8:20 pm (22:20 GMT) when a train stopped at a station was struck from behind by another in Mesquita, 34 kilometers (21 miles) outside Rio, state transportation chief Carlos Osorio said.
(AFP)
The Supervia commuter service is the target of regular criticism from users who deride its often dilapidated infrastructure. Its carriages do not have air conditioning even in the stifling heat of a Southern Hemisphere summer.
Osorio added that Supervia would be fined over the incident but did not specify how much.
Rescue authorities said most of those hurt had suffered minor injuries, including cuts and bruises.
(AFP)
A spokesman told AFP that seven people remained in hospital but their condition was stable.
"This accident is extremely serious and the error unpardonable. Experts are on site to retrieve material and investigate," said Osorio.
"We must find out if this is due to an individual mistake, a collective one or a combination of factors," Osorio said.
(AFP)
Osorio said the commuter rail service needed modernization but noted the train which hit the stopped one had been refurbished three years ago.
He added that 53 new trains would come on stream by the end of this year.
Around 620,000 people use the service daily as they commute in and out of Rio from the suburbs.
Follow Emirates 24|7 on Google News.