British MPs to return to Westminster after attack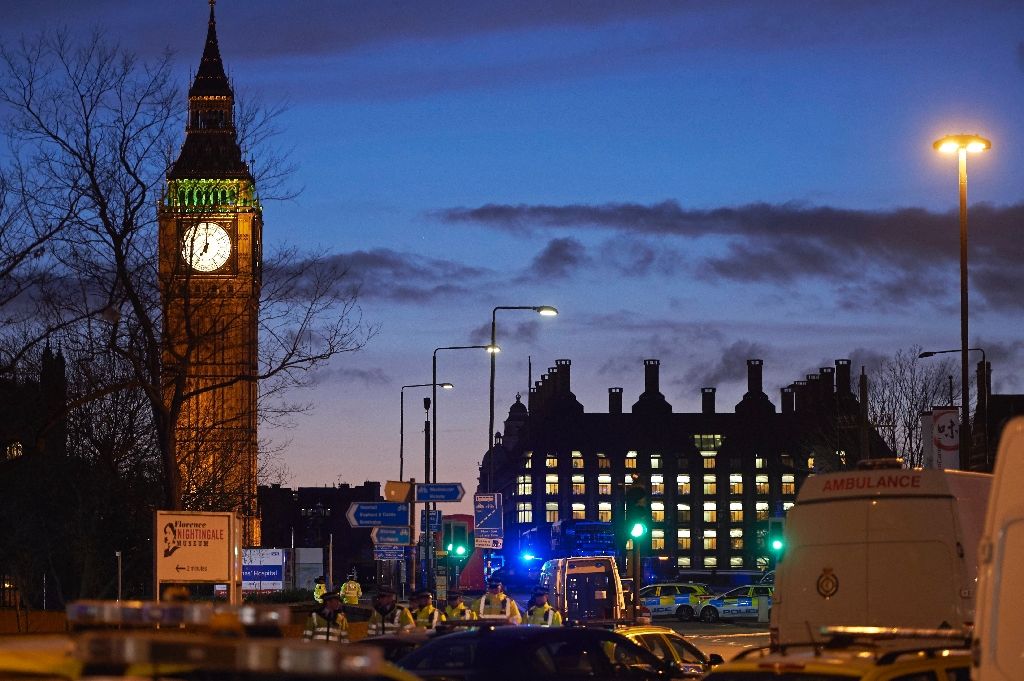 British MPs were preparing to return to parliament on Thursday after a lightning attack attributed by police to "Islamist-related terrorism", which saw four people killed and 40 wounded.
The attack unfolded on Wednesday across Westminster Bridge in the shadow of Big Ben, a towering landmark that draws tourists by the millions and stands over Britain's Houses of Parliament - the very image of London.
The attacker's car struck pedestrians on the bridge before crashing into the railings surrounding the heavily guarded Houses of Parliament, sowing first shock then panic in the seat of British power.
The assailant then ran through the gates brandishing a knife and stabbed a 48-year-old policeman to death before being shot dead by another officer.
Prime Minister Theresa May described the attack as "sick and depraved" in a defiant address in which she affirmed parliament would meet as normal on Thursday.
Standing outside her Downing Street residence after an emergency cabinet meeting, May said Britain's alert level would be kept unchanged.
"We will all move forward together, never giving in to terror and never allowing the voices of hate and evil to drive us apart," said May, who was dressed in black.
The prime minister was in parliament at the time of the attack and was seen being ushered away in a silver car as what sounded like gunfire rang out, British media reported.
Britain's top counter-terrorism officer Mark Rowley said the four victims included a policeman guarding parliament and three members of the public.
"Islamist-related terrorism is our assumption," Rowley told journalists.
He said investigators believe they know the identity of the assailant and police would be examining the scene of the attack through the night.
Queen Elizabeth II postponed her appearance on Thursday to open the new headquarters of London's Metropolitan Police, where the force's flag was flown at half-mast following the incident.
The attack came a year to the day after Islamic State jihadists killed 32 people in twin bomb attacks in Brussels and after a series of deadly assaults in Europe that had hitherto spared Britain.
Parliament was locked down for several hours and hundreds of lawmakers and visitors were later evacuated to nearby Westminster Abbey and the Metropolitan Police headquarters.
An air ambulance flew in and police cordoned off a large area, while tourists on the London Eye, a popular visitor attraction, were stuck up to 135 metres (443 feet) in the air for more than an hour during the incident.
"I saw three bodies lying on the ground and a whole lot of police. It was pretty terrifying," said Jack Hutchinson, 16, from the United States, who was stranded on the observation wheel with his parents.
Foreign Office minister Tobias Ellwood, whose brother Jonathan was killed in the 2002 Bali bombing, was pictured with his face smeared with blood helping to give first aid to the fatally wounded police officer.
'Terror carnage at Westminster'
Britain's last terror attack was the assassination of MP Jo Cox by a pro-Nazi sympathiser in her constituency in northern England.
The worst previous attack in London was in 2005 when four British suicide bombers inspired by Al Qaeda targeted the transport system, killing 52 people.
Britain's allies reacted with shock and vowed to stand with London in the fight against terror.
US President Donald Trump and French President Francois Hollande both spoke to May and Chancellor Angela Merkel said Germany stood with Britons "against all forms of terrorism".
"Spoke to U.K. Prime Minister Theresa May today to offer condolences on the terrorist attack in London," Trump tweeted.
Lights on the Eiffel Tower in Paris were switched off at midnight in solidarity with victims of the attack.
The incident dominated Britain's front pages, with The Times describing it as an "Assault on Westminster" while London's Evening Standard carried the headline "Terror carnage at Westminster".
International victims
French Foreign Minister Jean-Marc Ayrault is due to travel to London on Thursday morning to visit three French pupils on a school trip who were among those hurt.
Five South Korean tourists were wounded, Seoul's foreign ministry said, while the Romanian government said two of its citizens were also injured.
A Portuguese man was hurt, the country's government said, while a seriously injured woman was rescued from the River Thames following the incident.
A doctor at nearby St Thomas' Hospital said they were treating people with "catastrophic" injuries.
Press Association news agency photos believed to be of the attacker lying on an ambulance stretcher showed he was wearing black clothes and had a beard.
British lawmaker Mary Creagh told AFP there was "a real sense of panic" as the attack unfolded.
Pictures showed two people being attended to on the ground inside the vehicle entrance gates of parliament, with a knife visible on the cobblestones, while three shots were heard on video footage.
Follow Emirates 24|7 on Google News.