By picking fight with Mexico, Trump angers key partner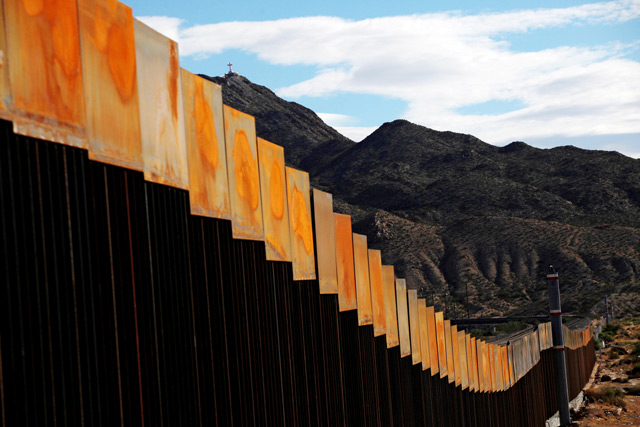 By picking a fight with Mexico, US President Donald Trump is antagonizing a strategic partner that could retaliate with a trade war and less cooperation on curbing illegal immigration, analysts say.
Trump has angered Mexicans by insisting that they will pay bill for a multi-billion-dollar border wall.
The standoff has sparked the biggest diplomatic rift between the neighbors in decades.
President Enrique Pena Nieto had voiced optimism that the two countries could have good relations after Trump's election, but his goodwill ended on Thursday as he scrapped a meeting with Trump in Washington next week.
For Jesus Velasco, an expert in US-Mexico relations at Tarleton State University in Texas, the last major crisis was in 1985, when a drug cartel tortured and killed a US Drug Enforcement Administration agent, prompting Washington to briefly close the border.
"This is even worse," Velasco told AFP.
"Trump is cornering the Pena Nieto administration so that there is no room for negotiations," he said.
Velasco said Mexico could hit back by letting Central American migrants cross the border and tell the Trump administration, "I'm not going to have any single cooperation on the border."
Despite Trump's criticism, Mexico and the United States have "one of the most successful (border) cooperations in the world," he said.
Under pressure from former president Barack Obama's administration after a massive surge of unaccompanied child migrants in 2014, Mexico launched a crackdown on illegal immigration at its border with Guatemala.
Mexico deported 147,370 migrants last year, compared to 80,900 in 2013, according to interior ministry figures.
And while Trump wants Mexico to pay for the wall, there are now more Mexicans returning home than migrating to the United States.
Tariff threat
But the Trump administration ramped up the threats on the wall payment on Thursday, with White House spokesman Sean Spicer saying that one possibility would be to impose a 20 percent tax on imports from Mexico.
"If the United States imposes a tax of this type, Mexico will impose a similar one," Luis de la Calle, an economist who was among the negotiators of the North American Free Trade Agreement in the 1990s, told AFP.
But de la Calle voiced doubt that the US Congress, where many lawmakers back free trade, would pass such a measure.
"There have been complicated periods with the United States in the past, but Trump is a different person," he said, adding that it is "up to him" to ensure relations remain "positive."
NAFTA is also on the table, as demanded by Trump, but Mexico's economy minister said this week that his government could leave the trade pact if the negotiations are unsatisfactory.
'Lucky' to be friends
Mexico and the United States are also major partners in a war against drugs.
The US Congress has appropriated $2.5 billion for the Merida Initiative, an aid program that has provided equipment and training to Mexican law enforcement agencies.
But in his search for wall funds, Trump has ordered officials to scour US government departments and agencies in search of "direct and indirect" aid or assistance to the Mexican government and report back within 30 days.
Duncan Wood, director of the Mexico Institute at the Wilson Center think tank in Washington, said Mexico needs to do a better job of explaining why the country is important for US security.
"All the emphasis has been on how the United States can help Mexico in the fight against organized crime," Wood told AFP.
"Now Mexico needs to make the case of, 'Look, you are damn lucky you have a friendly nation on your southern border, and that's worth thinking about,'" he said.
In a symbol of such cooperation last week, Mexico extradited the man who was considered the world's most powerful drug baron, Joaquin "El Chapo" Guzman, to New York on the eve of Trump's inauguration.
Follow Emirates 24|7 on Google News.