California forest blaze kills second firefighter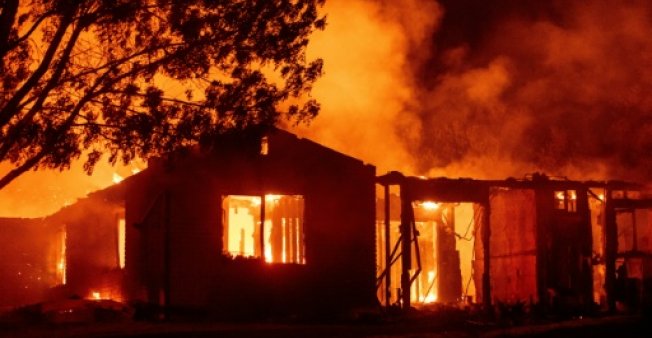 A second firefighter has died battling a fast-moving northern California wildfire that has forced residents to flee, an official said on Friday.
"Two firefighters have been killed in the Carr fire. A private contractor (operating) a bulldozer died yesterday and a Redding City firefighter was killed in the evening," a spokesman for Calfire, the state's Department of Forestry and Fire Protection, told AFP.
Calfire had announced hours earlier the death of the bulldozer driver.
The Carr fire outside Redding swept across a river late Thursday and engulfed the western part of the city of 90,000 people, said Bret Gouvea, a Calfire commander.
Scott McLean, a spokesman for the department, said law enforcement colleagues were "doing evacuations as fast as we can" because the fire was moving so fast.
"There have been some injuries to civilians and firefighters," he said.
Sixty-five structures have been reduced to ashes by the blaze which has destroyed more than 44,000 acres (18,000 hectares) and is only three percent contained, Calfire said on its website.
"The fire became very active throughout the evening," and the roughly 1,750 firefighters battling the blaze "continue to work aggressively to build containment lines" around it, the department said, adding that hot and dry weather is forecast to continue.
Another firefighter died several days ago in a separate blaze, the Ferguson fire, which has encroached upon the Yosemite National Park in central California, the most populous US state.
Last year was the worst on record for wildfire devastation in California, with more than 40 deaths and around 9,000 structures destroyed, following fires that ravaged the Napa and Sonoma wine regions.


Follow Emirates 24|7 on Google News.