Canada school shooting spree: 2 brothers, 2 teachers dead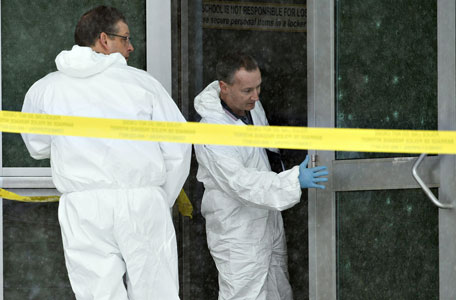 A 17-year-old male student has been charged with four counts of first-degree murder following a shooting spree that left two brothers and two teachers dead in western Canada, authorities said Saturday.
The high school student was also charged with seven counts of attempted murder over those injured in Friday's rampage at a home and nearby school in remote La Loche, in Saskatchewan province, Royal Canadian Mounted Police Superintendent Grant St. Germaine told reporters.
Prime Minster Justin Trudeau called the shooting "every parent's worst nightmare."
Unlike in the United States, mass shootings are rare in Canada, where firearms are more regulated than south of the border.
The teenager, who has not been named, is suspected of having killed two brothers -- Drayden and Dayne Fontaine, aged 13 and 17 -- at their home before going to a nearby school.
There, he allegedly opened fire again and shot dead two teachers, 21-year-old Marie Janvier and 35-year-old Adam Wood, while also injuring seven other people, according to police.
He was taken into custody after police received an emergency call about "a person discharging a weapon in the community," RCMP superintendent Maureen Levy said earlier.
The suspect was also charged with one count of unauthorized possession of a firearm, according to St. Germaine. He is due to make a court appearance in the coming days.
The possible motive for the crime was not immediately clear.
Saskatchewan Premier Brad Wall called the incident in the small aboriginal community a "terrible tragedy ... unimaginable and surreal."
Candles burned all night outside La Loche Community School and on Friday night, hundreds of people held a vigil in memory of the victims.
The families of the two young teachers paid emotional tribute to their loved ones.
"My cousin Marie was among those murdered in La Loche today. She was a charming, sweet young woman and I loved her so much," Patrick Wagenaar wrote on Facebook.
"My thoughts go out to my family and those affected by this tragedy. I'm so sorry."
Wood's family issued a statement saying: "Adam had just begun his teaching career in La Loche last September and was enjoying his time.
"Adam was quite an adventurer, had a passion for life, and would often make you laugh until your stomach hurt."
In Australia, Canadian tennis player Milos Raonic dedicated his Australian Open win to the victims.
"Today's victory was for that community and a quick recovery. All of Canada, and I'm sure the world, is behind you," an emotional Raonic told the crowd.
'I got scared'
Located deep in Canada's northern boreal forest, 800 kilometers (500 miles) north of the provincial capital of Regina, La Loche has about 3,000 inhabitants.
Because it is so isolated, authorities had to send in police reinforcements and dispatch a medical helicopter to airlift some victims to a hospital.
La Loche students said they heard six or seven shots ring out at around 1:00 pm (1900 GMT).
Pupils described how they fled, terrified for their lives.
One boy, 13, told the Toronto Star how he watched his teacher shot dead in front of him.
The teenager was in math class when he heard several shots ring out.
"I got scared and I got down to, like, behind the desk," he said.
The teacher told students to go against the wall, but as the children obeyed, someone fired into the classroom and hit the tutor in the back.
Trudeau was in Davos, Switzerland, where he was attending the World Economic Forum, at the time of the shooting.
The new prime minister said his Liberal government would have to reflect on Canada's current gun laws in the coming weeks and months in light of the shooting.
The previous Tory government had scrapped a short-lived national registry of rifles and shotguns.
Many Canadians living in rural areas own long guns like the one that appears to have been used in the shooting, and led a strong opposition to the registry they said wrongly targeted farmers and hunters.
Follow Emirates 24|7 on Google News.