Clashes continue in Egypt, death toll rises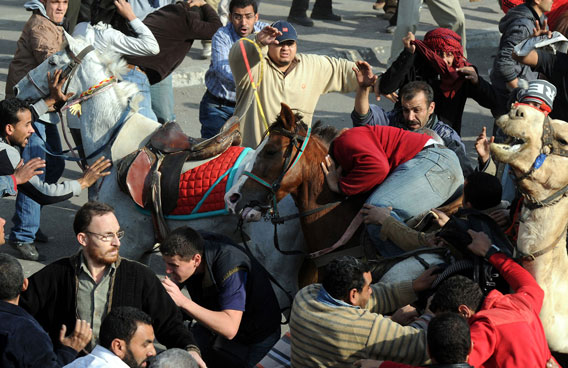 Anti-government protesters and supporters of President Hosni Mubarak clashed on Thursday near a central Cairo square in a re-run of overnight violence that killed six and wounded more than 800 people.
A Reuters witness said the latest outbreak of fighting was in a side street leading to Tahrir (Liberation) Square, where several thousand protesters had joined the hundreds of people who had camped overnight.
An army tank and several soldiers tried to push Mubarak loyalists away from the protesters, continuing its drive to separate the opposing groups. The tank turned its turret towards the Mubarak supporters, who were hurling rocks from a flyover, a Reuters witness saw.
The army gave heart to the protesters on Monday by endorsing their demands as legitimate and pledging not to open fire on them. But since Tuesday evening, when Mubarak responded to the protests by saying he would not stand for re-election in September, the soldiers have largely stood by without intervening. "One way or another we will bring Mubarak down," some protesters chanted in the early morning. "We will not give up, we will not sell out," others shouted.
Despite the overnight violence the square, the centre of demonstrations seeking to end Mubarak's 30 years of authoritarian rule, remains in the control of anti-government protesters.
"We are using these stones as a means of defence. Yesterday they attacked us with molotov cocktails (petrol bombs) and all we have to protect ourselves with is stones," protester Ali Kassem said.
Though protesters were fewer than in previous days, the level of public dissent remains unprecedented in the heavily policed state.
Television footage showed army units in the area arresting people in civilian clothes. Some protesters say the pro-Mubarak supporters have been paid for by the Mubarak's National Democratic Party (NDP).
Mohamed Al-Samadi, a doctor who had been treating the wounded in a makeshift clinic, said: "When we come here they (the army) search us for weapons, and then they let armed thugs come and attack us. We refuse to go. We can't let Mubarak stay eight months."
Egypt's health minister said six people were killed in the overnight violence and 836 wounded, 86 of whom were still in hospital. Al Arabiya television, without citing sources, said more than 10 were killed and 1,500 wounded.
Protesters are setting up makeshift clinics to provide first aid to the wounded before sending them to hospital when needed.
GUNSHOTS, PETROL BOMBS, STONES
"Through the night we were getting dozens of wounded every 15 minutes. We had casualties all over the place. Thugs surrounding us tried to attack more of us but we managed, thankfully, to block their advance," said Mohamed Abdel Hamid, a doctor.
On Wednesday, some Mubarak supporters charged at the anti-government protesters on horseback and on camels.
The Mubarak loyalists opened fire and threw stones and petrol bombs. Protesters barricaded themselves in the square and hurled stones back.
They shielded themselves with metal sheets and other items available in the square and surrounding shops and buildings. They also chased loyalists, seizing at least five and handing them over to the army. "What happened yesterday (Wednesday) made us more and more determined to remove President Mubarak," a spokesman for the protest movement Kefaya, or Enough, told Al Jazeera television.
"There will be no negotiations with any member of Mubarak's regime after what happened yesterday and what is still happening in Tahrir Square." A man addressing the protesters there by loudspeaker told those who had managed to sleep to head to a barricade near the museum at one side of the square to help those who had spent the night guarding the area from pro-Mubarak protesters.
Follow Emirates 24|7 on Google News.