Coldest weather in decades hits India; more than 100 dead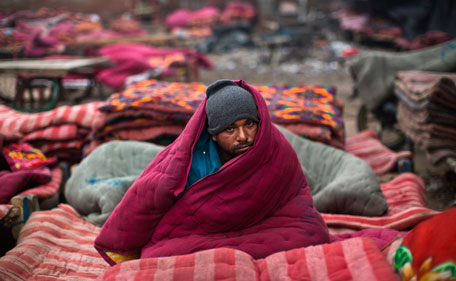 The coldest weather in northern India for at least 44 years has killed more than 100 homeless people, an aid group said on Thursday.
The capital New Delhi saw a maximum temperature of 9.8 Celsius (50 Fahrenheit) on Tuesday - the lowest since records began in 1969. Fog forced cancellation of flights and trains.
Anti-poverty charity ActionAid said it knew of 107 people who had died in northern states because of cold and blamed state authorities for not providing shelters despite instructions from the Supreme Court.
"Over 100,000 homeless people in Delhi alone are exposed to intense cold weather. Over 100 people have died in Uttar Pradesh and a few people in Rajasthan," said Sandeep Chachra, who works for the charity and reports to the Supreme Court.
Ambika Chaudhury, a minister in Uttar Pradesh, accepted there had been deaths due to cold, as well as malnutrition, but that their causes had yet to be officially confirmed.
Relief Commissioner L Venkateshwarlu, who oversees compensation to victims' families in the state, said no deaths had been certified as due to cold this winter and that post-mortums would take a long time.
Winters in northern India have become colder in recent years, said Rajendra Kumar Jenamani, a scientist at the Meteorological Department. He blamed pollution from industrialization and changing crop planting patterns.
"We cannot stop change in weather, but are trying to monitor and adapt airport, railway services accordingly," he said.
The Supreme Court told state governments to provide winter shelter for homeless people, but compliance was low and many people sleep on pavements, Chachra said. In the winter it is common to see entire families sleeping outside in New Delhi.
Weather officials said temperatures are expected to stay low over the next few days.
Follow Emirates 24|7 on Google News.