'Community is Traffic Cop'in Abu Dhabi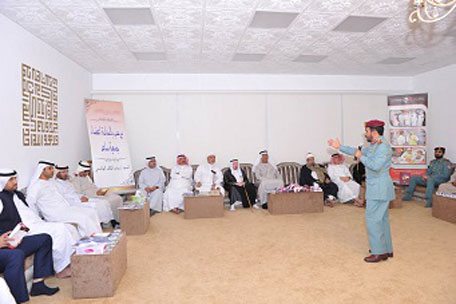 As part of a strategic partnership with the Traffic and Patrols Directorate at Abu Dhabi Police, the Saeed Society to Reduce Traffic Accidents has launched the 'Community is a Traffic Cop' initiative.
The Ministry of Interior hosted a council meeting, chaired by Hamed Al Kaff Al Hashemi in Abu Dhabi, calling for activating traffic safety societies and engaging them in the ongoing efforts.

Among the several proposals, activating a mobile messaging application to send traffic awareness messages about changing speed limits on various roads was discussed.

Participants in the Al Kaff Council also recommended enhancing public control by informing the traffic directorate of reckless and careless behaviour of young people in some areas, especially during the late-night hours.


They also recommended reinforcing the private sector's role in traffic awareness, preparing a comprehensive questionnaire about traffic issues to be extensively discussed, and setting up alert signals on pedestrian crosswalks.

Hamed Al Kaff Al Hashemi, host of the council, stressed the need to activate the role of community members in increasing commitment to traffic laws and raising awareness about the dangers of excessive speeding.

For his part, Colonel Jamal Al Ameri, Executive Director of the Saaed Society gave an overview of the initiative, which aims to support Abu Dhabi Police's efforts to improve road users' behaviour, implement traffic laws and safety standards, and increase public awareness and education, on the need to wear seat belts and helmets; reduce speed; the proper methods to cross roads safely, and other risks that cause traffic accidents.

Counselor Ali Al Hashemi pointed out that violating traffic regulations compromises the safety of violators and causes deadly accidents and damages to roads.
"Traffic laws need to be considered a mandatory culture and violators must be held accountable. Moreover, parents must teach their children the ethical standards of driving vehicles on roads," he concluded.

Follow Emirates 24|7 on Google News.