Cost of living in UAE: How far is your dirham going?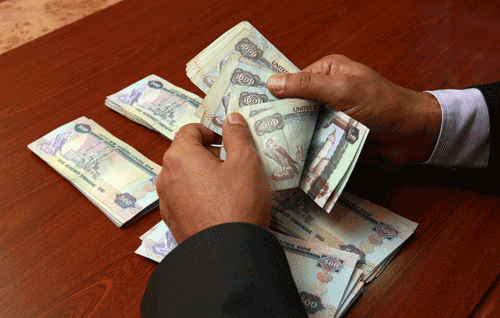 Most expatriates enjoy their time in Dubai.
It makes perfect financial sense to be here – generally, we earn more than we would in our home countries; the no income-tax policy means we take home what we earn, with no deductions; and the place is more or less crime free.
Put all this together, and you'll realise that some of us can enjoy the luxuries we couldn't back home – a Maserati in the UAE seems much more affordable than anywhere else.
Yet, many residents claim, especially those who've been around for over a decade, that times have changed. The lifestyle has changed in the city and so have the cost of living and the bills.
In the midst of all this, the common peeve is that the paycheque is really not going too far.
Your salary may have gone up by 5 per cent or so in the past year, but several residents say their savings have not gone up at all, and aren't any different from what it was two years back.
In fact, many who reside in Dubai say their potential to save was a bit higher during the recession years, when inflation seemed to drop in real terms.
Rent effect
Most residents saw a huge spike in rentals in the city last year, forcing people to pay for the increasing cost of accommodation that left a dent in their savings or had to cut down on other expenditure.
This was worse for residents who do not get their rent from their company but just a fixed housing allowance, which several claim is becoming insufficient to rent a decent place in Dubai.
This year, many experts forecast that rents will go down, giving tenants a breather, but ground realities are different.
As an example, the minimum rent for a three-bedroom villa in The Springs is between Dh165,000 and Dh170,000, and goes up to a Dh220,000-plus.
These are just the same as last year and residents on social media maintain there is a huge disconnect between what their landlords charge and what the experts in the property market may be saying.
The latest Reidin.com rent index for January 2015 shows rentals rose marginally 0.67 per cent, reflecting a year-on-year (y-o-y) increase of 11.8 per cent. As for apartments, prices went up by 0.69 per cent month-on-month (m-o-m) and 13.4 per cent y-o-y, while for villas rates increased 0.41 per cent m-o-m and 3.6 per cent y-o-y.
The 10-per-cent-plus y-o-y rental hike, especially for apartments, clearly eats into the 5 per cent pay hike (average) that UAE residents received in 2014.
Moreover, the limited availability of affordable housing in the city makes many take up a place that can cost them as much as 40 to 50 per cent of their income.
According to a report by the Economist Intelligence Unit (EIU) 'UAE expatriates and the bottom line', in absolute terms, rents in Dubai and Abu Dhabi for high-end accommodation compare favourably with those of London, New York and Sydney, but not New Delhi.
But while expatriate-level rents in London and New York are higher, they sit atop a very different rental market with a wider range of options and prices available, it states.
In the UAE, expatriates tend to rent high-end accommodation. Clearly, these dynamics are advantageous to expatriates who own property in the UAE but the majority prefers to rent, it adds.
Schooling
Schooling is a second challenging expenditure for expatriates and more so if employers are not assisting employees with any kind of education allowance.
According to the EIU report, "provisions for school fees, once a part of many expatriate packages, are starting to come out of the typical contract for professionals in the region as competition for jobs heats up." The average British school fees in the UAE stand at over Dh50,000 per annum, with some schools' annual fees as high as Dh94,000.
Newer schools that are opening up in Dubai to accommodate the increasing number of students are charging much more than older established ones, putting a drain on the finances of new parents or those who have recently relocated to the city and are scrambling for a place.
Rising tuition fee with other frills (like school trips) see many families adjusting their household budgets to offset this one cost.
According to a WhichSchoolAdvisor.com poll, over 1 in 2 respondents have difficulties in paying for school trips.
Majority (58 per cent) of respondents said they always have difficulties in paying, 12 per cent sometimes have difficulties, while just under one-third of respondents have no issues whatsoever.
School trips in the UAE, especially those organised by premium tier schools, can also involve international visits to premium destinations.
"My son is in grade 5 and the school is taking them for a ski trip to Switzerland. Paying Dh15,000 is a pricey option. I am not sending him but it's just a matter of time that I will have to give in," said a parent in Dubai on the condition of anonymity.
After school activities is another thing that can add up. Ian Haine, a parent, who sends his kids to an International Baccalaureate school in the city, vowed never to be a part of these pricey per hour classes.
"It didn't last. Soon, there were swimming classes, ballet, soccer, piano and guitar lessons for my son and daughter. If I add up everything, it's nearly Dh2,000 per month," he said.
The third expenditure on our list may not be a necessary one but maids do seem an integral part of many households in Dubai.
The maid factor
Hiring a maid or nanny in the UAE comes at a fraction of the cost that one would incur in the West but it has shot up considerably in the UAE itself.
The Ministry of Interior has raised the one-time security deposit for a maid visa from Dh2,000 to Dh3,000.
These are rules that aim to empower and protect people who work in homes but it does mean adjustment in an individual's household budget. The commissions charged by agencies makes the hiring a costly affair.
Moreover, the salaries have also gone up considerably. The asking price of a live-in housemaid in New Dubai areas like Emirates Living is between Dh2,500 to Dh3,000 now with a 10 per cent pay hike every year becoming the norm.
And more...
The grocery bills have gone up too but this cost will be felt more by citizens from certain nationalities as opposed to the others.
Abu Dhabi and Dubai are 38 and 42 per cent, respectively, cheaper than Sydney, based on the basket of goods used by the EIU's Worldwide Cost of Living survey.
The gap is less pronounced but still significant for London (35 and 37 per cent, respectively) and New York (27 and 30, respectively).
So, for expats coming from such locations, the money they spend on several products will be lower, leaving them with more disposable income at the end of the day.
But things are different when the cost of living in the UAE is compared to countries like India, where the listed goods by EIU are considerably cheaper.
The same basket of goods in Dubai and Abu Dhabi are 55 and 62 per cent, respectively, more expensive than New Delhi, and 70 and 75 per cent, respectively, more expensive than Mumbai.
Many residents believe going organic completely but their fancy does mean a padded bill with each grocery visit.
The smaller expenses things like laundry and home maintenance have also gone up. "I have an annual maintenance contract with a company for my villa. They increased it last year saying the cost of living in Dubai has gone up and I did relent," said a Meadows resident in Dubai.
Another resident in the same community complained of smaller bills going up. "My laundry man doubled his ironing charges," she says without wishing to be named.
"And, when I asked him why a 100 per cent hike. He just said Dubai has won Expo 2020," she said, only hoping that hikes and increments were just that easy to come by.
Follow Emirates 24|7 on Google News.