Crash kills 257 in Algeria's deadliest aviation disaster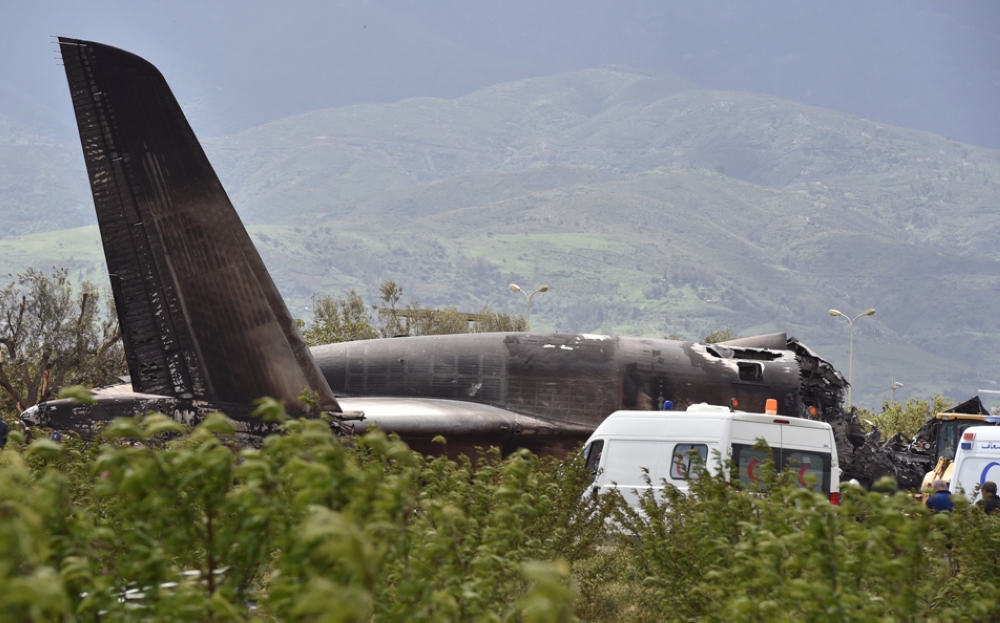 A hulking military transport plane crashed just after takeoff in Algeria Wednesday, killing 257 people in the worst aviation disaster in the North African nation's history and plunging the country into mourning.
Soldiers, their family members and a group of 30 people returning to refugee camps from hospital stays in Algeria's capital died in the morning crash of the Russian-made II-76 aircraft.
Photo: AFP
The plane went down in a field just outside a military base in Boufarik, 30 kilometers (20 miles) south of Algiers, and was devoured by flames, killing 247 passengers and 10 crew members, the Defense Ministry said.
There was no official mention of survivors, but one witness reported seeing people jump out of the aircraft before it crashed.
Arabic-language channel Dzair TV reported that five people were in a critical state, but it was unclear if they had been on the plane or were injured on the ground.
Photo: AP
Several witnesses told Algerian TV network Ennahar they saw flames coming out of one of the planes' four engines just before it took off.
"The plane started to rise before falling," an unidentified man lying on what appeared to be a hospital bed told Ennahar TV. "The plane crashed on its wing first and caught fire."
Video on the state television channel ENTV showed a blackened hulk broken into pieces, with huge wheels scattered about along with other plane parts. Firefighters doused the flames while body bags were placed in rows in the field.
The victims' bodies were transported to the Algerian army's central hospital outside the capital.
Photo: AP
President Abdelaziz Bouteflika ordered three days of mourning starting immediately and prayers for the dead on Friday at mosques across the country.
In the south, the Algerian-backed Polisario Front seeking independence for Western Sahara ordered a week of mourning for the 30 dead Sahrawi people returning to its refugee camps in Tindouf, a statement from the group said.
The flight was scheduled to go to Tindouf and then Bechar, the site of another military base, according to Farouk Achour, spokesman for Algeria's civil protection services. Tindouf is home to many refugees from the neighboring Western Sahara, a disputed territory annexed by Morocco.
Photo: AFP
Algeria is vast and plane flights are often the best way to traverse Africa's largest nation.
It was the first crash of an Algerian military plane since February 2014, when a U.S.-built C-130 Hercules turboprop slammed into a mountain in Algeria, killing at least 76 people and leaving just one survivor.
The four-engine Il-76 made its maiden voyage in 1997, according to Aviation Safety Network. The plane has been in production since the 1970s, and is widely used for both commercial freight and military transport.
The Algerian military, which historically depended on the Soviet Union and then Russia for military hardware, operates several of the planes.
A retired officer, Mohamed Khelfaoui, told the online Algerian TSA site that he had flown in the aircraft several times and "it has proven itself in Algeria and elsewhere."
Follow Emirates 24|7 on Google News.