Cyclone-ravaged Australia like 'a war zone'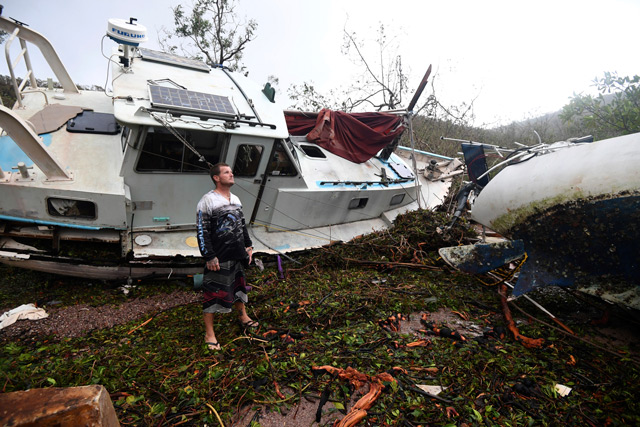 Towns were cut off and without power in northern Australia Wednesday after being pummelled by a powerful cyclone that washed battered yachts ashore and ripped roofs off houses in scenes compared to "a war zone".
The category four storm slammed into the coast of Queensland state between Bowen and Airlie Beach on Tuesday afternoon, packing destructive winds and devastating some of the region's tourist hotspots.
It has since been downgraded to a tropical low but the Bureau of Meteorology still warned of damaging wind gusts with "intense" rain, sparking flood fears.
"This rainfall is likely to lead to major river flooding over a broad area this week," it said.
Some areas have been drenched in 1,000 millimetres (39 inches) of rain in just 48 hours - the equivalent of half a year's worth, according to the weather bureau.
Roads to the towns of Bowen, Airlie Beach and Proserpine were inaccessible, with more than 60,000 homes without power and communications down in many areas.
Police said boats would be used to reach worst-hit coastal areas.
Queensland Premier Annastacia Palaszczuk said it was early days for damage assessments and she was worried people might be injured but had been unable to contact emergency services.
"We just don't know how many people are injured, the status of their homes, and what we are hearing is that we are seeing some structural damage in places such as Proserpine," she said.
On a brighter note, a baby girl was born at an ambulance station on the Whitsunday islands as the storm raged outside.
"You know, out of all of this, to see a little miracle, I think brings a smile to a lot of faces," said Palaszczuk.
So far there have been no reports of deaths from cyclone Debbie. A man was badly injured when a wall collapsed on him Tuesday.
'Like a warzone'
Great Barrier Reef islands popular with foreign tourists were among the worst hit.
Daydream Island Resort said it bore the brunt of the storm and sustained significant damage, including to its jetty and accommodation wings.
"Conditions were extreme with heavy rainfall and strong wind gusts causing damage to the resort and surrounds," it said in a statement, adding that all guests had been accounted for but it was running out of fresh water.
As day broke, scenes of devastation began to emerge.
Pictures posted on social media showed a light plane flipped upside down, yachts washed ashore, power poles down and trees fallen on houses.
Whitsunday Regional Council mayor Andrew Willcox described the scene in cyclone-ravaged Bowen as "like a war zone".
"This beautiful seaside town is now half-wrecked, but we will rebuild," he told Channel Nine television.
In the mining town of Collinsville, roofs were reported ripped off houses from a storm residents called emotionally draining, with winds raging for hours.
"I'm shattered emotionally and physically. I've gone through the worst 24 hours I've experienced in my 53 years," a local identified only as Julie told the Australian Broadcasting Corporation.
Wind gusts of up to 270 kph (167 miles) were reported near Debbie's broad core.
Debbie 'a catastrophe'
Emergency crews ventured out at first light to better assess the damage, with the federal government having soldiers, helicopters and planes on standby to help.
Prime Minister Malcolm Turnbull said he had "put in place the biggest pre-deployment of the Australian Defence Force in advance of a natural disaster".
Having lived through cyclones before, many were prepared and boarded up homes after warnings to expect the worst weather in the state since Cyclone Yasi in 2011, which ripped houses from their foundations and devastated crops.
Tens of thousands evacuated to higher ground, cyclones shelters or left the region before it hit.
Yasi, which struck less populated areas, caused damage estimated at Aus$1.4 billion. Debbie has officially been declared a catastrophe by the Insurance Council of Australia, allowing claims from the disaster to be prioritised.
Follow Emirates 24|7 on Google News.