Death toll from Ethiopia landslide reaches 72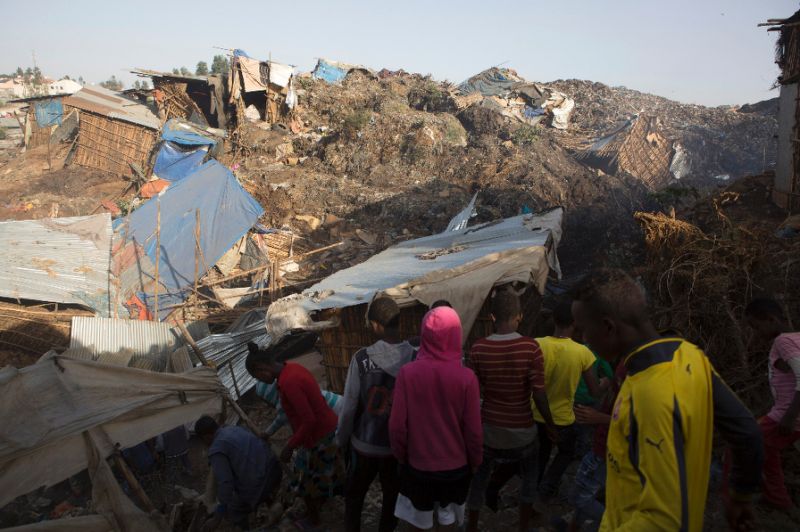 The death toll from a landslide at Ethiopia's largest rubbish dump reached 72 on Tuesday as the country's parliament declared three days of national mourning, a government minister told AFP.
"The death toll is 72 so far," Communications Minister Negeri Lencho said, adding that rescuers were still searching for survivors and victims' bodies.
Part of the largest hill at the Koshe rubbish dump in the capital Addis Ababa gave way on Saturday, swallowing up a slum that had been built on the trash and burying families alive in their homes.
Most of the dead are women and children.
Rescuers on Tuesday pulled a woman alive from the rubble more than two days after the disaster, said Dagmawit Moges, a spokeswoman for the Addis Ababa city administration.
Starting Wednesday, flags in Ethiopia will fly at half-mast as the country observes three days of mourning for the victims.
The Koshe landfill, the country's largest, has for more than 40 years been the main garbage dump for Addis Ababa.
Hundreds of people lived at the landfill on the outskirts of the capital, collecting recyclables trucked in from neighbourhoods around the city of about four million people.
The government tried last year to close the dump and move it to a different location, but opposition from residents at the new site forced the authorities to back down.
Residents who spoke to AFP blamed the landslide on the construction of a new biogas facility on top of the rubbish.
They claimed the facility had destabilised the hill that makes up the landfill.
Lencho rejected that claim, saying slum dwellers had caused the collapse by digging into the soil to find rubbish to sell.
Follow Emirates 24|7 on Google News.