Delhi lawmaker tells gun owners to save women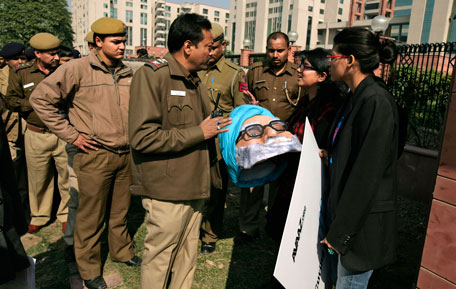 Gun owners should roam the streets at night and use their weapons to prevent crimes against women, Delhi's lieutenant governor has said in the wake of the brutal gang rape and murder of a student in the capital, according to a report Saturday.
Tejendra Khanna, who heads the national capital's police department, on Friday urged gun-owning residents to put their weapons to "social service" and scare away potential molesters, The Indian Express said.
"Gun owners with licences must roam lonely spots like bus stands each night and if they spot someone harassing a woman, they should use their weapon to stop the crime," the federal administrator said in a speech.
"They can at least spend an hour or so every day with their friends in public after nightfall," Khanna said, according to the Indian Express.
The opposition Bharatiya Janata Party condemned Khanna's remarks, saying "citizens should not be advised to take their law into their own hands in any situation".
The Geneva-based Small Arms Survey estimates India is home to 40 million civilian-owned firearms of an estimated 650 million worldwide. Just 6.3 million Indian arms are registered.
Khanna's remarks came as Indian President Pranab Mukherjee in a speech Friday said the December 16 attack on the student who died of massive internal injuries "has left our hearts empty and our minds in turmoil".
Police say rape cases in New Delhi jumped 23.4 percent to 706 in 2012 from a year earlier, highlighting rampant crime against women in the sprawling metropolis of 16 million people.
The murder of the 23-year-old student ignited street protests and calls for harsher punishments for rapists.
Five men are on trial for the rape and killing while a sixth has said he is under 18 and that his case should be heard in juvenile court.
New Delhi is known as the most unsafe major Indian city for women with more than twice as many rape cases registered in 2011 than in commercial hub Mumbai.
Follow Emirates 24|7 on Google News.