DEWA completes Hatta Hydroelectric Plant engineering studies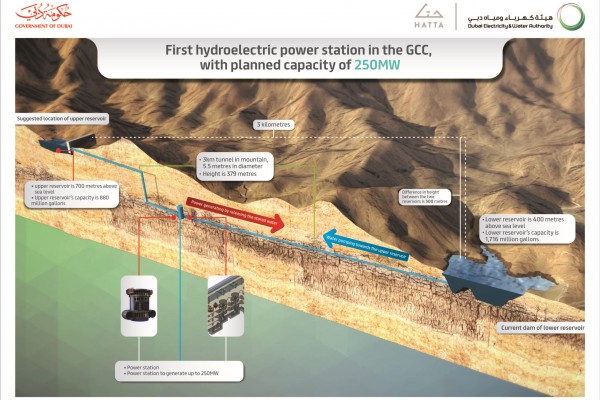 Dubai Electricity and Water Authority, DEWA, has completed engineering studies related to the 250MW hydroelectric power station in Hatta, which will use the water stored in the Hatta Dam.
This is part of an AED58 million consultancy contract that DEWA awarded to France's EDF Group in June 2017, and covers all design, hydro-geological, geological, environmental, geotechnical, and deep excavation studies. It also includes consultancy on deep-water tunnel designs, the upper reservoir and hydroelectric power station, the tender for material supply, supervision of construction work, site installation, on-site testing and commissioning.
The project is the first of its kind in the Arabian Gulf, with a total capacity of 250MW by hydroelectricity from water stored in the Hatta Dam, and a lifespan of up to 80 years.
"As part of the Dubai Clean Energy Strategy 2050, launched by His Highness Sheikh Mohammed bin Rashid Al Maktoum, the Vice President, Prime Minister and Ruler of Dubai, we have launched several projects, including the hydroelectric power station, at a cost of AED 1.92 billion," said Saeed Mohammed Al Tayer, Managing Director and CEO of DEWA.
"In addition to being a low-cost reliable and efficient source of clean energy, hydropower is the most important source for energy storage. It is estimated that storage hydropower represents 99 percent of the world's operational electricity storage. Other benefits include water security, flood control, drought management, irrigation, and recreation. Hydropower is one of the most flexible and sustainable renewable energy sources. It can be operated to provide base-load power, as well as peak-load supply through pumped-storage. However, estimates indicate the availability of approximately 10,000TWh/year of unutilised hydropower potential worldwide," said Al Tayer.
The hydroelectric power station will generate electricity by making use of the water in the Hatta Dam, which can store up to 1,716 million gallons, and an upper reservoir that will be built in the mountain that can store up to 880 million gallons.
The upper reservoir will be 300 metres above the dam level. During off-peak hours, turbines that use clean and cheap solar energy will pump water from the lower dam to the upper reservoir. During peak-load hours, when production costs are high, turbines operated by the speed of waterfall from the upper reservoir will be used to generate electricity and connect it to DEWA's grid. The efficiency of power production will reach 90 percent with a 90-second response to demand for electricity.
Follow Emirates 24|7 on Google News.