Dh10.9 billion spent on healthcare in Dubai: DHA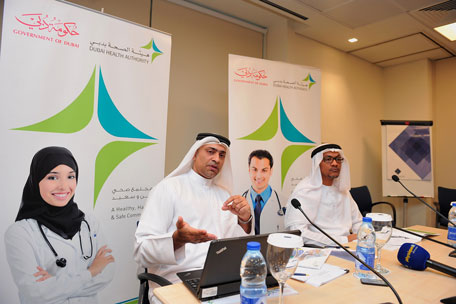 The Dubai Health Authority (DHA) announced the findings of the second health accounts report for Dubai during Arab Health Congress.
Dr Haidar Al Yousuf, Director of Health Funding Department announced the release of the report, which supports decision-making through evidence-based insights.
The total health spending for 2014 was Dh12.77 billion of which Dh10.95 billion in Dubai and Dh1.83 billion outside Dubai.
Al Yousuf said the results showed that of the Dh12.77 billion spent on health, 30 per cent was funded by the government, 45 per cent by the private sector and 25 per cent by the families and individuals.
As the roll out of the mandatory health insurance scheme is completed in 2016, it is expected that the share of out-of-pocket expenditure incurred by families and individuals will drop.
Private sector spending in healthcare in 2014 was Dh8.5 billion, which is an increase of 37 per cent from 2012. Share of funds between the private and the government was 70:30, which conforms to the DHA's strategic goal.
In terms of growth in the current healthcare expenditure, in-patient care grew by 14 per cent, outpatient care grew by 8 per cent, and pharmaceutical expenditure grew by 14 per cent.
Al Yousuf thanked all the concerned parties who contributed to the publishing of this report and said: "Representatives from 100 organisations provided us with data.
"This includes the Ministry of Health, Dubai Department of Finance and Dubai Statistics Center, and the private sector organisations including health insurance companies, hospitals and clinics, and the pharmaceutical companies.
"The technical team then analysed and tabulated the collected data, based on the International classification System of the World Health Organisation, the Organisation for Economic Cooperation and Development, and the Statistical Office of the European Union."
Altijani Hussin, Health Economics Consultant at the DHA said that of the total expenditure, 59 per cent was spent towards curative care, 14 per cent was spent towards medicines and medical equipment, 15 per cent for ancillary services such as laboratory and diagnostics tests, and 5 per cent towards preventive services.
Hussin added that the findings suggested that hospitals provided health services in that valued at 47 per cent of these amounts compared to 22 per cent for clinics, 14 per cent of pharmacies and diagnostic services, and 14 per cent for services outside the emirate.
In the next few weeks, the health funding department will hold a series of workshops with key stakeholders including insurance companies, private and public healthcare providers and pharmaceutical companies to go through the results of the findings in detail so that they can benefit from it and use that in future planning and investment.
Follow Emirates 24|7 on Google News.