Did Wayne Rooney dive to win a penalty?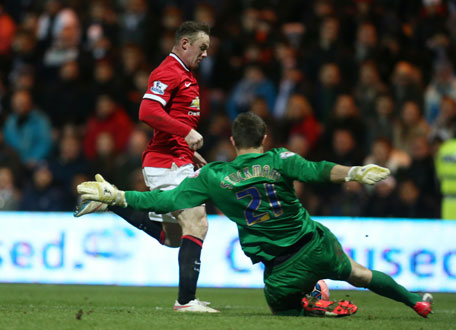 Roy Hodgson jumped to the defence of Wayne Rooney after the Manchester United and England captain was accused of diving to win a penalty in the 3-1 win at Preston.

United set up a mouth-watering FA Cup fifth round tie against Arsenal thanks to goals from Ander Herrera, Marouane Fellaini and Rooney, who converted a late spot kick to seal the win.

Rooney went down in the box to win the penalty after Preston goalkeeper Thorsten Stuckmann rushed off his line to challenge him.

Replays showed there was no contact between the Preston stopper and Rooney, but the England manager - sat in the BBC studio at Deepdale - insisted his captain had every right to go to ground.

When asked whether Rooney had dived, Hodgson said: "Not for me. I just think he was taking evasive action.

"If you are a referee in the run of play without replays I don't think any of us would have said it is not a penalty.

"The goalkeeper has gone with both feet. Wayne has touched it past him."

Former United full-back Phil Neville- who was also at the game for the BBC - agreed with the England boss.

Neville even suggested that had Rooney gone for the ball rather than jump over the goalkeeper, his season could have been wrecked by a leg break.

"When the keeper is flying out he has to get out the way," Neville said.

"You might say it's a dive, but if he left his leg there it would be a leg breaker.

"He had to dive. He had to get out of the way or else he would have snapped his leg."

Simon Graysonbelieves Stuckmann made no contact with the United striker, whose penalty ended a seven-and-a-half week goal drought with the spot-kick.

The Preston boss was loathe to criticise Rooney though.

"I am not saying it wasn't a penalty. I am saying there was no contact," the former Leeds manager said.

"You can interpret that how you want. It wasn't a dive. He has gone to get out of the way and take evasive action. I am not complaining."

Former England and Southampton midfielder Matt Le Tissierwas less forgiving, writing on Twitter: "Rooney didnt (sic) dive to get out of the way of the challenge he did it to win a penalty. Get real people.

"It was entirely feasible to have stayed on his feet AND.avoid the poor challenge from keeper. He chose to dive and conned the ref."

Grayson refused to criticise Rooney after replays suggested he impeded Stuckmann's path in the build up to Fellaini's goal.

"It is a grey area," he said.

He believes Fellaini was guilty of nudging his marker in the back before he bore down on goal though.

"Tom Clarkewas pushed by Fellaini," Grayson said.

Debate will no doubt rage for the next few days regarding whether Rooney took a tumble to win the spot kick.

But regardless of what is said in the coming days, the fact remains that United are through to the last eight of the competition, where they will meet Arsenal at Old Trafford.

They had to fight hard to achieve the victory at Deepdale. The League One side prevented the 20-time English champions from registering a shot on target in the first half.

Scott Laird then sent the home fans into uproar by putting North End ahead with a deflected shot that David de Geawill be unhappy to have conceded.

When asked whether he was worried United would be knocked out when Laird's goal flew in, Van Gaalsaid: "Of course. When we conceded a goal it was a little bit unlucky deviated the shot.

"We have to fight again for the victory.

"In the second they scored out of nothing. In the first half we don't create ourselves many chances so that is why I changed the shape.

"That was I think we make the goals. I think the first goal was also a little lucky was the second goal was a training goal, fantastic I think and the third goal was a penalty and then the match was done.

"I have to give to all the credit to the players because they have done again everything and the spirit in the team is unbelievable."

Van Gaal has had to travel to lower league opposition for the first matches of the competition, but he is looking forward to hosting Arsenal in three weeks' time.

"I think that is the most important thing - that we have a draw at home," said the Dutchman, whose introduction of Ashley Youngfor Radamel Falcao on the hour proved vital.

"That is important in FA Cup matches so I am pleased we can play against Arsenal and at home."


Follow Emirates 24|7 on Google News.