Discovery Gardens rents dip, but tenants to pay more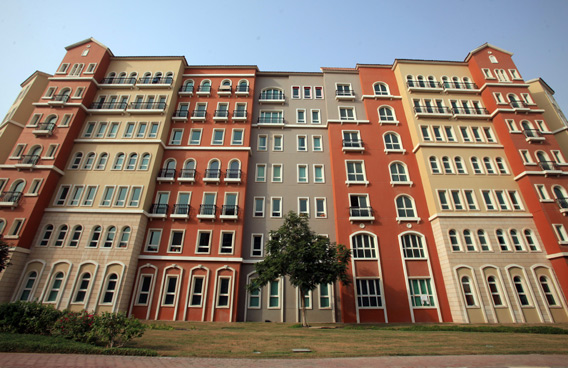 Discovery Gardens, an "affordable" rental community close to Sheikh Zayed Road, is the only area in Dubai to have registered a two per cent rental decline in 2014, with property experts now predicting a "rent softening" this year.

Even though rents may come down, some renters (prospective and existing) in the community may, in fact, not benefit, at all. Why?

Chiller meters are being installed in 62 Nakheel-managed owners' association buildings and tenants will have to pay for their unit's air-conditioning, which was previously paid for by their landlords.

"Individual chiller meters are being installed in all 62 owners' association buildings managed by Nakheel in Discovery Gardens.
"This will provide a more transparent system under which air conditioning bills will be based on individual consumption and paid directly. Owners and residents welcome the move.
"Installation of meters is ongoing, with anticipated completion this year," a company spokesperson said in a statement emailed to Emirates 24|7.
A Nakheel Owner's Association Management notice, issued in 2013 and reported by this website, said, installation of chiller meters in each apartment would trigger energy saving with the buildings becoming more environment friendly with potential savings of 15 to 30 per cent of total consumption proven.
It stated on average the total cost of cooling a building at Dh410,000 per year and the new move could allow buildings to save between Dh61,500 to Dh123,000, per year, in energy costs.
Unit owners in Discovery Gardens pay chiller charges between Dh5 and Dh7 per square foot per annum (pa), as part of their annual service charge.
With chiller meters being installed, tenants will have to pay the charges.
This will force landlords, who do not want their units to remain vacant, to lower rents so to compensate renters to the extent of the cost of the chiller, which might range between Dh5,000 and Dh9,000 per annum (pa).
"Landlords will reduce the rent where tenants are ready to pay the chiller charges; if the tenant is not ready and unwilling then landlords may request higher rents.
"Therefore, directly or indirectly, tenants may end up paying more," Urvashi Sidhpara, a Residential Leasing Consultant, Better Homes Real Estate, told Emirates 24|7.
Landlords gain as it reduces their annual service charges, she said, adding, "But the tenant will have to pay charges between Dh3,000 and Dh5,000 per year for a studio unit and Dh7,000 to Dh9,000 per year for one-bed units."
According to the consultant, landlords in Zen, one of the six-themed clusters in the master community, have already started taking Dh10,000 in annual cooling charges for one-bed apartments and Dh5,500 for studio units through separate cheques from tenants.
"There is no way that landlords can ask their tenants to pay chiller charges in additional to high rents.
"They have to reduce rents if they want us to rent their units, or else we will see an exodus of tenants to other areas," S Kumar, who has leased a two-bed apartment in Discovery Gardens, told this website.
"I have signed a contract for this year and hence, I don't have to pay for the chiller cost. I will take a decision when my contract comes up for renewal," he added.
Currently, the average current lease rates for one-bedroom units, as per Asteco's new report, stands at Dh70,000 pa, while two-bedroom units have declined to Dh80,000 pa from Dh83,000 pa.
Though there was no mention of studio lease rates, average listing prices are between Dh48,000 and Dh55,000 pa.
As per the Real Estate Regulatory Agency (Rera) Rent Index, studio rents are between Dh45,000 and Dh55,000 pa; one-beds between Dh60,000 and Dh75,000 pa and two-beds between Dh70,000 and Dh85,000 pa, respectively.
Emirates 24|7 reported earlier that Rera was asking interim owners associations to install separate chiller meters at the time their annual budgets came for approval.
As per the Association Constitution Clause 65, Rera may enforce the owners association to install separate meters for all units and common areas for all utility service providers and may even enforce the utility service suppliers to separate the utility fees of the common areas from the fee for the unit owners.
The utility service providers are also required to submit separate invoices directly to the unit owners and to the owners association for the common property.
The agency has been giving the chiller cost separately in the annual budget for some years now to unit owners to pass on the charges to their tenants, in case they wanted them to pay.
Follow Emirates 24|7 on Google News.