Donal Trump looks to steady ship after fraught start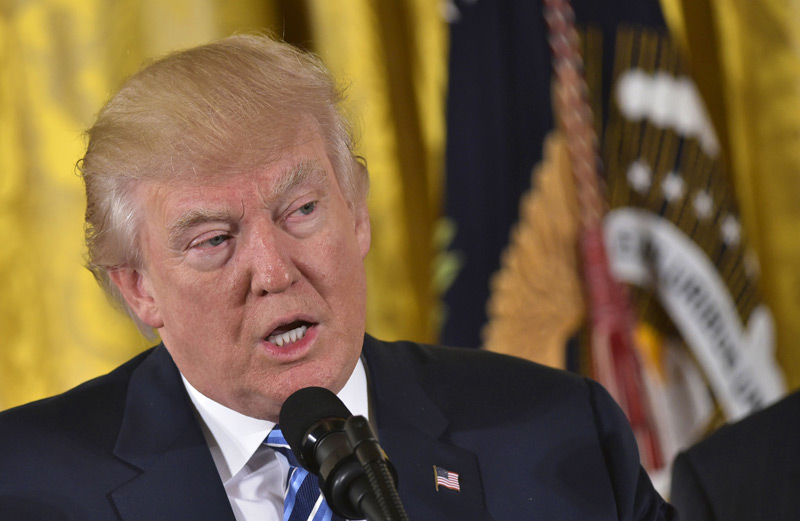 President Donald Trump gets down to work Monday, signing a slew of executive orders to start rolling out his policy agenda after a tumultuous first few days put his administration on the back foot.
As he embarks on his first full week in office, the 45th US president will try to steady the ship, seeking support from lawmakers, business leaders and unions at the White House.
Since he was sworn in on Friday Trump's White House has been pilloried for lying to the public about crowds at the inauguration, and the president himself for making a campaign-style speech before a memorial to fallen CIA officers.
Some two million Americans have poured into the streets for women-led demonstrations the scale of which were unseen in a generation.
"Why didn't these people vote? Celebs hurt cause badly," Trump tweeted angrily on Sunday morning.
An hour later, adopting a more conciliatory tone, he noted "peaceful protests are a hallmark of our democracy."
"Even if I don't always agree," he said, "I recognize the rights of people to express their views."
Trump aides say the next week will see a steady if not daily drip of executive actions designed to get back to Trump's agenda.
Already there have been moves to roll-back President Barack Obama's health care reforms and freeze some regulations in the pipeline.
On Sunday Trump vowed to swiftly start renegotiating the North American Free Trade Agreement with Canada and Mexico.
A Washington group of lawyers and researchers plans to file a federal lawsuit against Donald Trump Monday, alleging that the US president is violating a constitutional ban on accepting payments from foreign governments.
In a statement released Sunday the Citizens for Responsibility and Ethics in Washington (CREW) said the newly sworn-in Trump was in violation of the Constitution because his business properties abroad operate partly based on goodwill from foreign governments and regulators.
And a petition on Whitehouse.gov demanding that the billionaire president immediately release his tax returns passed 100,000 signatures, the threshold at which the White House is supposed to respond within 30 days.
Back on the bike
More quick legal tweaks - in the form of executive orders - are expected on immigration and limiting environmental legislation.
But more substantive changes will need buy-in from the Republican controlled Congress.
On Monday, Trump will host separate meetings with business leaders, unions and members of both houses of Congress.
He will also meet the Speaker of the House of Representatives, Paul Ryan.
Tax reform is likely to be high on the agenda.
Some in Congress want to lower the corporate tax rate to 20 percent and pay for it by ending tax breaks on imports.
That is likely to come up against fierce opposition from big retailers who depend on cheap imports and could well run up against WTO rules.
Reform of Obama's health care laws is also likely to be on the menu.
Republicans are keen to repeal the law, but are less united on what should replace it.
Trump has publicly promised that none of the tens of millions of Americans who obtained health insurance under Obama will lose it.
That makes any meaningful changes difficult to pay for.
Trump will also need to win support for some of his cabinet nominees who have yet to be confirmed.
His picks for the CIA - Mike Pompeo and the State Department - Rex Tillerson - now appear to have enough votes in Congress to pass, but others are less certain.
But the more urgent task for Trump may be to keep always skeptical establishment Republicans on board the "Trump train."
Dissent in check
Trump's approval rating is around 40 percent, according to the RealClearPolitics average, low for a president just starting out.
That could make legislators think twice about toeing the line with an unpopular leader.
But Trump's bareknuckle style has also kept dissent in check, with some terrified that they will become the object of a presidential tweet that sets off a world of political pain.
So far the most willing to thumb their nose at Trump have been senators who have just been reelected like Marco Rubio and John McCain.
On Thursday, Trump will travel to a Republican Congressional retreat in Philadelphia to further build ties.
The following day, he will host British Prime Minister Theresa May - the first White House visit of a foreign leader under the new administration.
Follow Emirates 24|7 on Google News.