Donald Trump takes South Carolina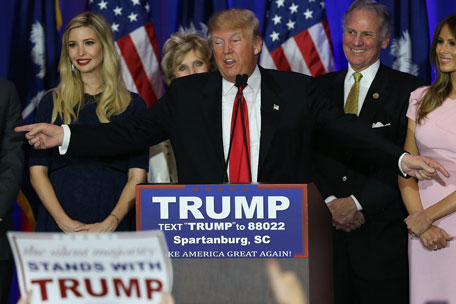 Republican presidential frontrunner Donald Trump grabbed a big win in the South Carolina primary on Saturday, while Democrat Hillary Clinton breathed life into her sluggish campaign with a victory over Bernie Sanders in Nevada.
The wins for the brash billionaire and the former secretary of state give the candidates a major boost heading into the next major phase of the White House race - Super Tuesday on March 1, when about a dozen states go to the polls.
In South Carolina, the 69-year-old Trump triumphed, capturing about a third of the votes, according to early counts, but all major networks projected he was the winner.
His supporters erupted in a roar when CNN called the contest in his favour - his second win of the nominations race after New Hampshire and an important test of the strength of his bid to succeed President Barack Obama.
Hundreds of supporters at the Trump watch party in Spartanburg waved Trump signs and chanted "U-S-A! U-S-A!"
A real battle was brewing for second place in the Palmetto State between two first-term senators, Ted Cruz - who defeated Trump in Iowa - and Marco Rubio.
In Nevada, Clinton claimed a major win. With about 85 per cent of precincts reporting, Clinton was at 52.5 per cent to 47.4 per cent for Sanders.
"This is your campaign, and it is a campaign to break down every barrier that holds you back," Clinton said in her victory speech at her Caesars Palace headquarters on the Las Vegas Strip.
"Americans are right to be angry. But we're also hungry for real solutions."
Sanders congratulated Clinton, but also said he was proud of having significantly narrowed the gap.
"We have the wind at our back as we head toward Super Tuesday," the 74-year-old Sanders said, looking ahead to the major March 1 showdown, when about a fifth of the Democratic nominating delegates are up for grabs.
'Take a risk' with Trump
In South Carolina, Trump - a onetime reality TV star who has upended the political landscape with his take-no-prisoners style and tough talk on everything from Muslims to Mexico - showed he could compete for the long haul.
Lynn Derrick, a regional vice president for Oracle Corporation and a first-time primary voter, said he had cast his ballot for Trump.
"We just think we want to take a risk with Trump. We think he's had success with everything he's touched," Derrick told AFP at a high school in the state capital Columbia.
Trump and Cruz, who won the Iowa caucuses, duked it out in the week leading up to Saturday's primary, with the campaign growing increasingly nasty.
The results were not good news for former Florida governor Jeb Bush, Ohio Governor John Kasich and retired neurosurgeon Ben Carson, who were resigned to the second tier of candidates.
Clinton wins Nevada
In the desert state of Nevada, both Clinton and Sanders worked hard to reach out to African-Americans, Hispanics and Asian-Americans, who make up roughly half of the state's population.
Clinton, who won by a hair in Iowa but was crushed by Sanders in New Hampshire, had counted on a major Hispanic voter turnout, especially among Las Vegas hotel and casino employees.
But according to CNN entrance polls, while she handily won the black vote, the Latino vote was more evenly split -- evidence that his campaign may have much longer legs than first expected.
Clinton did well with women, but was stomped once again by Sanders with young voters, the polls showed.
The former top US diplomat needed a win in Nevada, a state once seen as a relatively easy victory for her - but one where Sanders gathered steam after trouncing Clinton in New Hampshire on February 9.
Clinton won their first showdown in Iowa on February 1, but only by a razor-thin margin.
The 68-year-old Clinton worked hard to win votes from hotel and casino employees, making multiple stops on the Strip since Wednesday.
Clinton claims that Sanders is offering impractical, pie-in-the-sky ideas that he cannot bring to fruition as president, and on Saturday took aim at corporate America - usually a message sounded by Sanders.
"If you cheat your employees, exploit consumers, pollute our environment, or rip off taxpayers, we're going to hold you accountable," she said.
"But if you do the right things, if you invest in your workers, contribute to your communities, help build a better America - we're going to stand with you."
Follow Emirates 24|7 on Google News.