'Drunk' American arrested over Japan flight brawl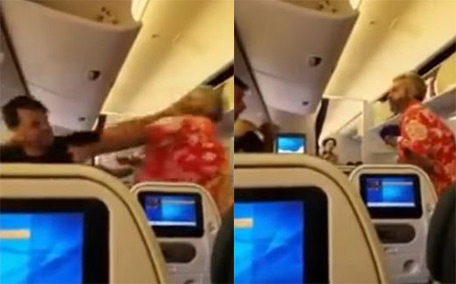 Japanese police have arrested a drunken American man over a punch-up with another passenger on an All Nippon Airways (ANA) flight, which caused a delay, officers said Wednesday.
The man, whose name has not been released, was pulled off the Boeing 777 that was due to fly from Tokyo's main gateway Narita airport to Los Angeles, after the brawl erupted before takeoff.
"I will kill you!" the male passenger, wearing a red Hawaiian shirt, is seen yelling in video footage filmed by another passenger, who uploaded it on social media.
"The plane was about 50 minutes late, so everyone was a little irritated because of that, kinda frustrated," Corey Hour, the passenger who shot the video, told the BBC.
The man in the red Hawaiian shirt is seen throwing punches at another male passenger, as other people on the flight try to escape the area, until ANA staff separate the two men.
The red-shirted man then shakes off the female flight attendant's attempts to restrain him and continues to throw punches.
"The flight attendants actually got caught up in the mix and that's when the video ends as I put my phone down and I actually got in the middle of everyone and confronted him," Hour added.
"The suspect, a US citizen, was drunk and arrested after he injured an ANA official following the fight," a member of the airport police told AFP.
The man's arrest was formally over his injuring the airline official, not the onboard brawl, said the airport police spokesman, speaking on customary condition of anonymity.
Local media reported that Japanese investigators also questioned the American about the fight on the plane.
As of lunchtime Wednesday, the man remained in detention in Japan, the police spokesman said.
The fight, as well as bad weather, forced ANA to delay the departure of the flight by one hour and 40 minutes, local media reported.
ANA did not immediately respond to a request for comment.
Follow Emirates 24|7 on Google News.