Dubai, Abu Dhabi, Sharjah majors form realty giant - Omran Properties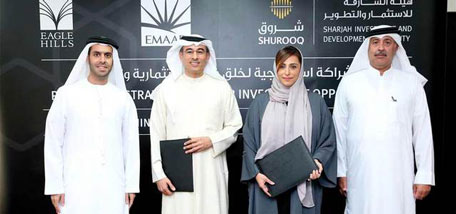 The Sharjah Investment and Development Authority (Shurooq) has signed a partnership agreement with Emaar Properties and Eagle Hills, an Abu Dhabi-based property developer, to establish a new real estate company in Sharjah called Omran Properties.
Under the agreement, Shurooq acquires 34 per cent of the new company's capital, while Emaar and Eagle Hills acquire 33 per cent each, Shurooq and Emaar said in a joint press release.
Through the agreement, Omran Properties will develop and manage the real estate sector in the emirate and beyond, as well as provide management and maintenance services to projects that concern all parties.
As per the agreement, the headquarters of Omran Properties will be based in Sharjah, with a possibility of further offices being set up in the region. The company will carry out investment business directly or through any of its subsidiaries or other related companies.
The new company's activities will involve development and ownership of investments in the real estate sector, providing management and maintenance services, as well as the use and investment of corporate funds in a manner deemed appropriate.
The aim of the partnership is to boost joint cooperation between the three parties and expand economic investments in the emirate, they said.
The MoU was signed by Sheikha Bodour bint Sultan Al Qasimi, Chairperson of Sharjah Investment and Development Authority (Shurooq), and Mohammed Al Abbar, Chairman of Emaar Properties and Board member of Eagle Hills, on behalf of Emaar and Eagle Hills developers at Al Qasba in Sharjah.
The agreement follows the three parties' intention to strengthen cooperation, exchange expertise in the field of property investment and to further develop it in Sharjah and the UAE as a whole.
The agreement is aimed at strengthening cooperation in the area of investment, supporting commercial, industrial and real estate projects in Sharjah, setting up companies that might help achieve the goals of Omran Properties, as well as sharing investment information that encourages development of the emirate's economy.
The two parties will offer all the support needed to promote investment in the emirate or abroad.
The agreement will help all partners to achieve more as it acts as a starting point for mutually beneficial cooperation in launching new and high-end projects that serve economic and investment diversity in the emirate and the UAE.
Sheikha Bodour Al Qasimi said, "The agreement falls within Shurooq's commitment to strengthen cooperation between corporates and organisations in the UAE, widen channels of investment in the emirate's vital sectors, and apply the best practices pertaining to economic development and advancing vital facilities in Sharjah."
"We will seek through the new company to solidify relations based on trust and help develop and grow investments in the UAE, and Sharjah in particular, capitalizing on Emaar's exceptional experience in property development and management of shopping malls, retail trade, and the hospitality and leisure industry."
Sheikha Bodour said Sharjah's economic sector is witnessing remarkable growth and further development "thanks to the vision and directives of His Highness Dr. Sheikh Sultan bin Mohammed Al Qasimi, Supreme Council Member and Ruler of Sharjah."
Mohammed Al Abbar, Chairman of Emaar Properties and Board member of Eagle Hills, said, "Sharjah has made significant achievements and progress in diversifying its economic resources, which is reflected in the investments in seaports, free zones and industrial sectors."
Shurooq, he added, has a powerful portfolio of investments that play a crucial role in advancing economic growth.
"The joint venture between Shurooq, Emaar and Eagle Hills is an example of the constructive public-private partnerships that can achieve economic growth. We are confident that investments and projects undertaken by ' Omran ' will have a good impact on increasing the performance of key development sectors in Sharjah, and enhancing the emirate's economic competitiveness," Al Abbar added.
Follow Emirates 24|7 on Google News.