Dubai airport list of items prohibited as hand luggage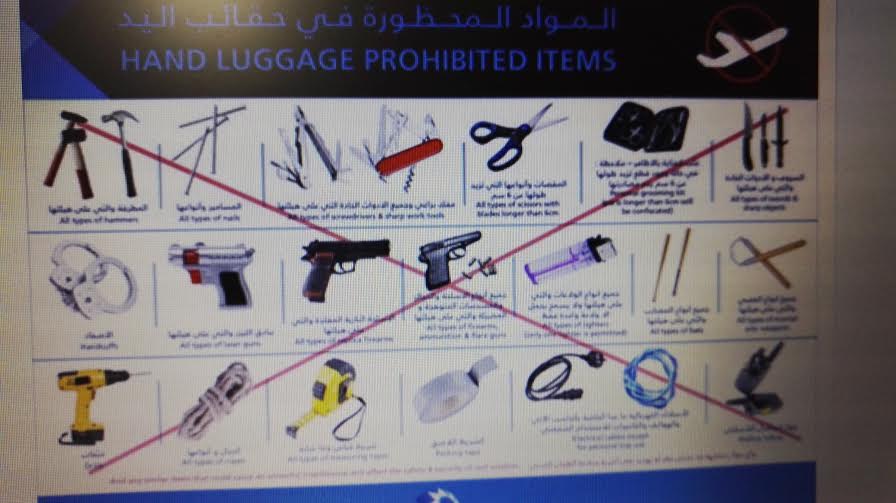 Airport security procedures are continually enhanced and altered in countries and airports across the worldwide, all geared up to ensure the safety of the passengers.
Different airlines have their list of items that can be carried as cabin luggage.
According to aviation body Iata, more than 60 airlines in the world have a total ban on the carriage of balance wheels, hoverboards and other self-balancing vehicles in passenger baggage.
These include Dubai's Emirates, Abu Dhabi's Etihad, and other regional airlines like Qatar Airways, Gulf Air, Oman Air and Saudi Arabian Airlines besides other international ones like Delta, Southwest, United, Air Canada, Qantas, Air France, Jet Airways and many more.
But while hoverboards are banned from being carried on as hand luggage or checked-in baggage, there are several other items of daily use may not be carried in the cabin.
Dubai Airports has published a list of items that passengers are prohibited from taking in as hand luggage.
Travellers are advised to make sure that they do not have these items in their carry-on baggage to avoid delays or problems at the airport.
Dubai Airports has listed 19 items that are prohibited as checked in luggage items.
Here is the list.
1. All types of hammers
2. All types of nails
3. All types of screwdrivers and sharp work tools
4. All types of scissors with blades longer than 6cm
5. Personal grooming kit (parts longer than 6cm will be confiscated)
6. All types of swords and sharp objects
7. Handcuffs
8. All types of laser guns
9. All types of replica firearms
10. All types of firearms, ammunition and flare guns
11. All types of lighters (only one lighter is permitted)
12. All types of bats
13. All types of martial art weapons
14. Drills
15. All types of ropes
16. All types of measuring tapes
17. Packing tape
18. Electrical cables except for personal use
19. Walkie-talkie
In addition, liquids over 100ml are prohibited in carry-on baggage anywhere in the world.
Dubai Airports also has a set of baggage regulations and packing suggestions.
Regulations
• Please do not carry liquids over 100ml in your hand luggage.
• Place containers in a clear, resealable plastic bag.
• Put the resealable bag in your hand luggage.
Generally two pieces of baggage are allowed for international travel, with the total weight not exceeding 32kg. However, this may vary by airline and fare type. Check with your airline before you fly.
Baggage larger than 90cm long, 75cm high and 60cm wide, or that does not have a single flat surface, will need to be checked in at the oversized baggage counter. Please allow extra time to check-in oversize baggage, according to a Dubai Airports advisory.
Also remember that excess baggage must be repacked to ensure that no single bag is over 32kg in weight.
In addition, if your check-in or carry-on baggage goes above the airline-specified weight quota, an excess baggage fees applies.
If you know that you will be going over-quota, it is better to purchase excess baggage allowance prior to the departure day as it will typically cost you more at the airport.
General tips
• Pack personal belongings in your hand luggage.
• Keep a laptop where it can be easily reached: you'll need to place it in a separate security tray at the security scan.
• Always remove old baggage tags. They may cause the baggage system to reject the bag they're attached to.
• Avoid using cardboard boxes. They need to be processed manually, which takes longer. And they're not as durable.
• Don't forget travel insurance.
Follow Emirates 24|7 on Google News.