Dubai Airports: Why you must arrive early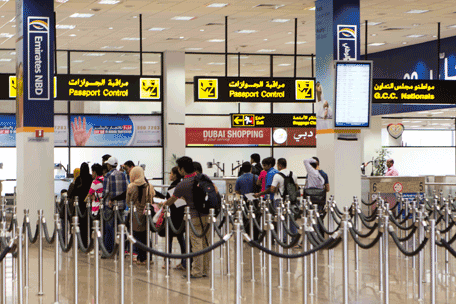 Dubai Airports has advised travellers to arrive early to Dubai International airport as the average passenger numbers are expected to double with the arrival of the peak season and the summer vacation.
With many schools across the UAE closing in the coming week, the average number of departing passengers is expected to double, Dubai Airports said.
"On the busiest days, June 25 and 26, more than 75,000 passengers will be departing from the airport.
"With this in mind, the airport operator is encouraging passengers to complete as many processes as possible before they get to the airport including online check-in and registering for flight updates on the airport's website," the airport said in a statement.
Dubai International is the world's busiest airport in terms of international passenger traffic and third for cargo volumes.
Dubai Airports, which owns and manages the operations of both of Dubai International and Al Maktoum International at Dubai World Central, last week announced that 6.5 million passengers passed through the airport in April 2015 as compared to 6.16 million in the same month last year, an increase of 5.7 per cent.
During the first four months of 2014, Dubai International received 26.116 million passengers compared to 24.521 million passengers during the same period last year, an increase of 6.5 per cent.
Dubai Airports' operations teams are also gearing up for the summer peak by adding support staff and May I Help You staff at key touchpoints such as immigration and security during the busiest periods.
"We are again expecting record traffic levels at Dubai International this summer and again we will be deploying additional resources from the kerb to the boarding gates to ease the flow of passengers through our facility," said Paul Griffiths, CEO of Dubai Airports.
"With many passengers leaving Dubai on vacation at this time, we want to ensure that everyone's experience is as stress-free as possible," said Eugene Barry, EVP Commercial Group at Dubai Airports.
"By arriving to the airport early, utilising the online check in facility offered by airlines, or using our website to track their flight, we would like to get passengers through their travel formalities and to the departure areas as smoothly as possible, where they can enjoy our wide range of international food & beverage, world-class retail, lounges, and spa services, and be in a great mood to begin their journey," he said.
Follow Emirates 24|7 on Google News.