Dubai-based startup's attempt to 'Save Steve's Job'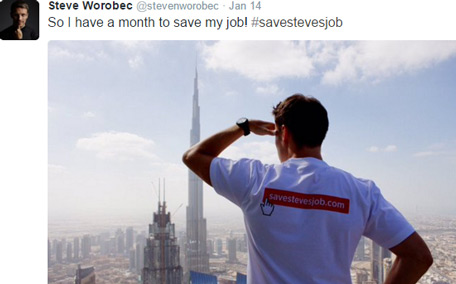 A Dubai-based startup has begun a campaign towards saving Steve's Job. Just that it has got nothing to do with either Apple or Steve Jobs.
The marketing manager at Insydo, Steven Worobec, decided to come up with the idea to promote his website that curates local businesses and anonymously reviews them proving what they call, "an insider tip from an undercover team."
Yes, an undercover team, specifically dedicated to the task go about scouting for places of interest, and present their reviews on the site.
"Authentic, unbiased and opinion that our visitors will value. It will have both the good and bad elements of the business or the service we have listed," says Tanaz Dizadji, CEO and founder of Insydo.
A chartered accountant by profession, she quit her job to start the website in May 2014. "I started it off as there was a genuine need for such a service. Every time we search for something in Dubai, we depend on Google. Then we have to dig through the information available online, making it all the more painful," she says.
The website has already listed about 2,000 businesses in more than 180 categories.
When asked about the revenue model she says, the company plans to make money (almost 70 per cent) by allowing businesses to participate in the listing.
"But that does not mean they get a favourable review. Our policies are very strict," she says. The remaining 30 per cent she says could come in through advertisements.
The startup has already managed to raise about $2 million from key investors in the UAE. "We plan to expand into other cities. In the next five years we hope to be active in at least five different cities across the globe," she adds.
The company is already working on a developing mobile applications. "Our Android app is almost ready and is being tested., It will be released by the end of March, and it will be followed by an iOS app," she adds.
Meanwhile, Steven has seriously decided to do everything he can to save his job.
Follow Emirates 24|7 on Google News.