Dubai Canvas Festival: Art elites echo emirate's unique spirit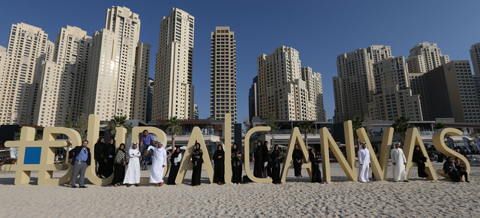 The first session of Dubai Canvas Festival wrapped up following an innovation- packed week.
The festival was held with the participation of world-class 3D pavement art elites and a selected group of promising Emirati artists.
Taking place at The Beach, opposite Jumeirah Beach Residence (JBR), the event was organised by Brand Dubai, the innovation arm of the Government of Dubai Media Office.

"The support of His Highness Sheikh Mohammed bin Rashid Al Maktoum, Vice-President and Prime Minister of the UAE and Ruler of Dubai, and the encouragement of Sheikh Hamdan bin Mohammed bin Rashid Al Maktoum, Crown Prince of Dubai, are the pivotal elements in the festival's success," Director General of the Government of Dubai Media Office Mona Al Marri asserted.
She said: "Positive energy remains the catalyst for innovation and vehicle for unconventional thinking, which makes up original elements in Dubai's spirit and distinguishes the city that races time to be always in the forefront of the world's fastest growing cities.
"This is the message the main message Dubai Canvas carried."
Al Marri expressed her gratitude and appreciation for all the partners who worked hand in hand to make Dubai Canvas a success.
She also praised the efforts of the team that worked day and night to enrich the festival's agenda with creative ideas.
Dubai Canvas Festival created huge buzz and attracted massive public attendance.
To see stunning art on show: Click here
The event granted its visitors the opportunity to interact with the world's top 3D pavements artists to satisfy their eagerness to learn about this art. Kurt Wenner, founding father of 3D pavement art, and his colleagues presented their works to public and shared their rich experiences with local artists.
In addition to Wenner, the world leading 3D artists participated in the event, including the German Gregor Wosik, the Mexican Juandres Vera, the Italian Anthony Cappetto and Cuboliquido, the American Julie Kirk Purcell and Tracy Lee Stum, the Dutch Leon Keer and Peter Westerink and the Peruvian Cesar Paredes Pacora. The artists expressed their happiness to be in Dubai and partake in such event.
During the debut festival, The Cultural partner of the festival, the Cultural Office of Sheikh Manal bint Mohammed bin Rashid Al Maktoum, wife of Deputy Prime Minister and Minister of Presidential Affairs Sheikh Mansour bin Zayed Al Nahyan, invited selected group of young local artists to work with the visiting artists.
Follow Emirates 24|7 on Google News.