Dubai Canvas Festival: Michelangelo of 3D art on streets of JBR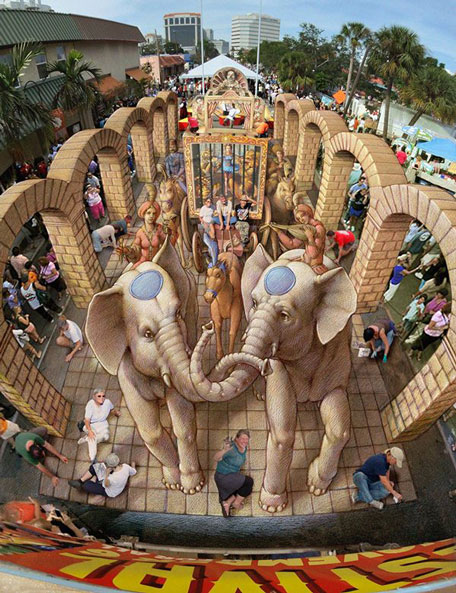 The inventor of 3D street art, Kurt Wenner, is set to return to Dubai to participate in the second edition of Dubai Canvas Festival.
The American artist whose work has been seen and loved by millions in more than 30 countries, will be creating exclusive pieces for the Festival that runs from March 1 to 14, 2016.
Organised by Brand Dubai, the creative arm of the Government of Dubai Media Office (GDMO), in cooperation with Jumeirah Beach Residence (JBR), a renowned destination developed and managed by Dubai Properties (DP), Dubai Canvas Festival 2016 will feature over 60 works of well-known international, regional and local artists.
The festival will be held at JBR in an area stretching over two kilometres.
Wenner invented 3D pavement art in 1984 inspired by the use of the 'anamorphic' perspective of the European classical masters.
He created an entirely new geometry to compose images that appear to rise from, or fall into, the ground when viewed from a specific angle.
The acclaimed artist said that he is looking forward to returning to Dubai in March to participate in the Dubai Canvas Festival.
"Last year I enjoyed my experience in Dubai very much, as did my wife and son. It was especially fascinating to see the level of optimism, planning and creativity on the part of the organisers.
"I have seen this level of commitment in the private sector but it is rare to see it in a public entity," he said.
Arif Mubarak, Chief Executive Officer of Dubai Properties' Asset Management Arm under Dubai Properties Group said: "In cooperation with Brand Dubai, we look forward to hosting world-renowned artists such as Kurt Wenner at the Dubai Canvas Festival.
"JBR is one of Dubai's most exciting leisure destinations for residents and tourists alike, and its unique urban vibe offers the ideal setting for the Festival. JBR's public spaces provide an open accessible venue for the public to engage and interact with the artworks and the perfect 'canvas' for the extraordinary artists to create their work at the Festival."
Wenner's artwork has been admired for its originality, beauty, and appeal in countries across the world.
In 2014, he designed a work that earned him the Guinness World Record for the World's Largest 3D painting.
His creations appear in prestigious international magazines, as well as in a number of documentaries including the award-winning National Geographic film, 'Masterpieces in Chalk'.
At the inaugural Dubai Canvas Festival last year, Wenner's 3D art featuring a traditional abra and children with pearl baskets attracted significant interest from the public.
The artist feels Dubai provides an ideal environment for displaying his creative work.
"The multicultural composition of Dubai is a perfect environment for the interactive images I create. In many ways, Dubai is a city of the future. It grows with design and intention rather than by historical accident. Therefore, the city provides a good measure for the future success of an art form," he said.
The artist has a few surprises in store for audiences at this year's Festival. "I will have three works that should appeal to the sense of travel and adventure that is typical of the multicultural and global nature of Dubai. I would prefer to surprise the public rather than describe the works in detail," he said.
Early in his career, Wenner worked with Nasa as an advanced scientific illustrator, creating conceptual paintings of future space projects and extraterrestrial landscapes.
Later he left Nasa and moved to Italy to study the great artists of the Renaissance, who eventually inspired the creation of his unique new 3D art form. His work has been exhibited in 30 countries around the world.
Dubai Canvas Festival 2016 will feature the works of over 30 artists from 14 countries.
The artworks will be exhibited in an area stretching over two kilometres within Jumeirah Beach Residence. In addition to the artworks, the Festival will also feature many events on the sidelines including custom-designed workshops and activities for different ages.
Follow Emirates 24|7 on Google News.