Dubai dad survives 20 hours in rough seas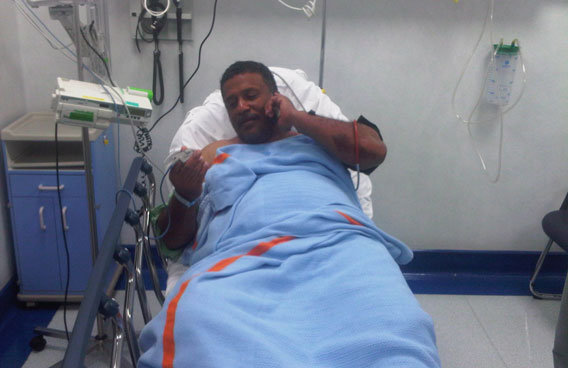 A 44-year old father of three had a miraculous escape at sea after he was caught in one of the most fierce sand storms to hit Dubai in recent times.

The Egyptian spent hours in the water after his boat capsized, before he was rescued by the Dubai Coast Guard and Rescue team.
Now, out of hospital and a week later, in an exclusive interview with this website, Mohammed K recounts the harrowing, yet amazing experience of being cast away at sea.
Mohammed K feared not being able to see his family and daughters again.
"I cannot believe what happened to me. It is like what we see in movies. I went fishing with six of my friends last Friday near Palm Jumeirah. At around 1.10pm, the sand storm hit. We were very worried when we saw the big waves. They turned our boat upside down. We were all struggling to stay alive by holding on to the sides of the boat.
"Luckily, a ship was was nearby waiting to enter the port in 15 days. The ship captin saw what happened to our boat. He was unable to come close because of the size of his ship, so he stopped at a distance and threw ropes towards us. After struggling for more than two hours, all my friends managed to get on the ship.
"My foot was stuck in the boat engine, and it was too difficult to release it. The boat started going down and I went down with it. The captain and my friends thought that I was swept away. They left.
"Somehow I managed to release my foot. When I came up, I saw that they left me alone. I climbed up and sat on the boat.
"I waited for hours, but nobody turned up to rescue me. I am not a good swimmer. I was holding a rope which was tied to the boat firmly.
"I was all alone. I could sea the lights of buildings very far away in Dubai. I was wondering how would I get out of the sea. I was too sleepy and tired, but was fighting to stop myself from falling asleep.
"The weather was very bad as well. The water was freezing and the winds were cold. I thought that I will die there. Many times I thought of letting go, but then imagined that as committing suicide. So, I held on to the rope and did not sleep all night.
Next morning, Mohammed saw that he was not too far from a small island which is part of Palm Jumeirah.
"I moved my boat and tried to push it towards the island. After couple of hours, I managed to get to about ten meters from it. I jumped from the boat and started swimming towards the island. I landed there.
"Then, I saw a security guard on another island. I waved till he saw me. He called the police and rescue department. They came and pulled me out using a rope as the island was surrounded by heavy rocks and it was too dangerous for them to come closer."
In the meantime, the ship's captain had radioed the port, asking them to send out a boat to fetch the six rescued. But the port authorities asked him to come in. They reported Mohammed as missing.
Mohammed says that the lesson he learnt was to take weather forecasts seriously.
"I did not check the sea and the weather for that day."

Mohammed loves fishing, but the experience has so scarred him, that he will not be able to go back to the sea for some time.

A Dubai Police Rescue Department official confirmed the incident and said the accident was due to the storm and the man was lucky to survive.
"People should always check with the Met office or other weather sites before going out the sea to prevent major accidents and fatalities," he added.
Also see: Strong winds make beaches no-go areas
Follow Emirates 24|7 on Google News.