Dubai Marina Torch tower fire: 20 free hotel nights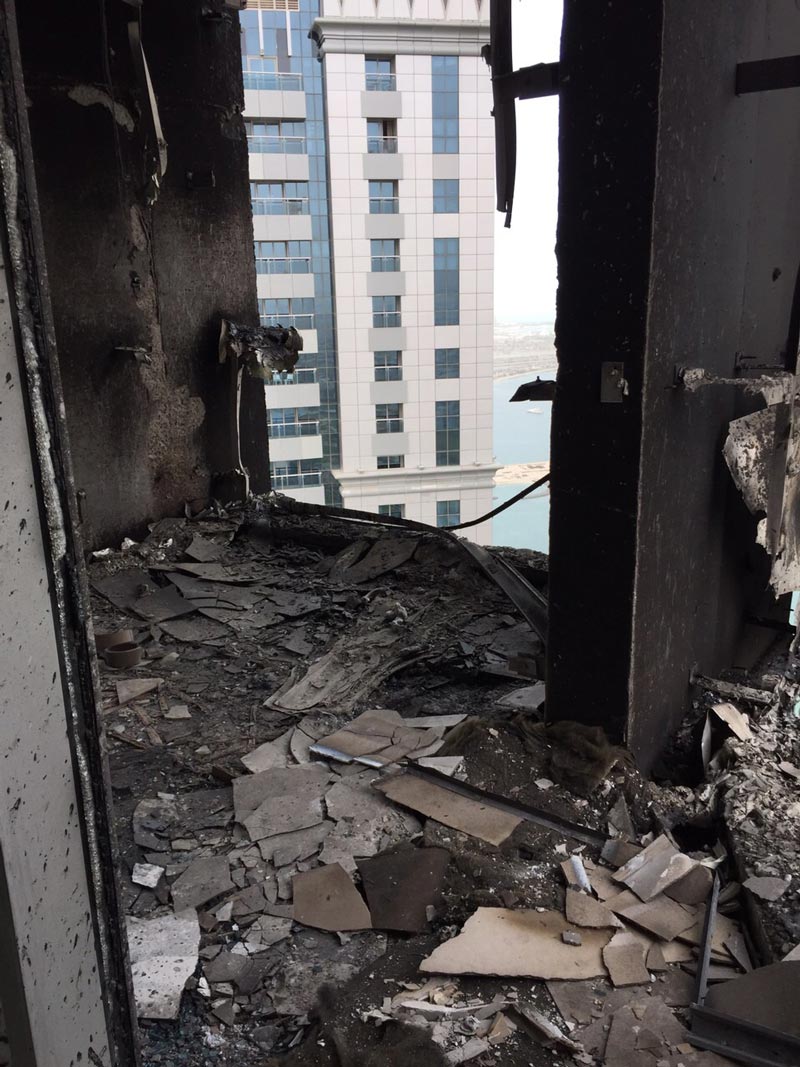 One week since a fire gutted the exterior of 101 apartments in the Dubai Torch tower blaze and displaced families out of their homes, the local community has rallied around to assist by offering free hotel nights, bed space in private residences and emergency supplies.

Neighbouring Jannah Place Dubai Marina is offering 20 free hotel nights for Torch tower residents that are unable to return home indefinitely, as management works towards clearing debris from the affected apartments.

Oman Insurance Company said in an earlier statement that it was offering displaced families seven-free nights from the date of the fire under its 'Emergency Accommodation' provision, which comes to an end on Saturday, February 28.

Nehme Imad Darwiche, Group CEO at Jannah Hotels and Resorts, stated it was offering 10 suites to residents of the Torch tower who are unable to stay in their homes due the tragic fire.

"We owe it to each other to take care of our fellow citizens and I hope that others will follow our path, 10 studios is what we can do, I wish we could do more," he said.

Kathrin Reinthaler, Worldwide Marketing Director at the hotel group told Emirates 24|7: "As part of our civic duty, we are stepping up to help who we can. Residents can opt to stay for a few nights or can choose to stay all 20, that is entirely up to them.

"The amenities we will offer will be the same that are given to our regular occupants, including free parking, internet and a full furnished and working kitchen."

Residents who want to avail the offer will be required to furnish a copy of their Torch tower tenancy contract.

Meanwhile, several members of the community have also stepped up to offer rooms in their apartments and villas until the residents are able to find alternate accommodations.

Carla Richardson, a resident of The Springs, is offering a room in her villa for a few weeks.
The US national said: "It is the least we as a community can do after you hear of such devastating news.
"The trauma of fleeing from a burning building, watching your home go up in flames is enough stress for an individual.
"Add to that is the cost of finding alternate living arrangements can be just as stressful for some, if not more."
Amy Mathews, a Dubai Marina resident, offering a spare room in her home said: "When I heard that the insurance company was only able to provide a seven-night complimentary stay to those who are unable to return home, I thought 'I have a spare room, so why not?'.

"Today we help them in their time of need; tomorrow it may be our time to seek help."

In the immediate aftermath of the blaze that ripped through the 86-storey Dubai Marina high-rise in the early hours of Saturday, retailers have been stepping up to provide emergency supplies to displaced tenants.

One of the Torch tower residents who spent the first night at the emergency evacuation centre in neighbouring Princess Tower stated they were grateful to local retailers such as Spinneys, NKD Pizza, Le Meridien hotel and Cafe Martinez to provide food, blankets and supplies in their time of need.
A staff member at the 24-hours Life Pharmacy that is situated next to Torch tower further stated: "We had so many people who walked into our store that night to get baby supplies, slippers, water.
"Some had money, others had run out with nothing on them. We did what we could, and after point just started handing out free water to people. It's the least we could do."
The cause of the fire is still under investigation.


Follow Emirates 24|7 on Google News.