Dubai's famous skyline to get 2 new supertall towers in 2016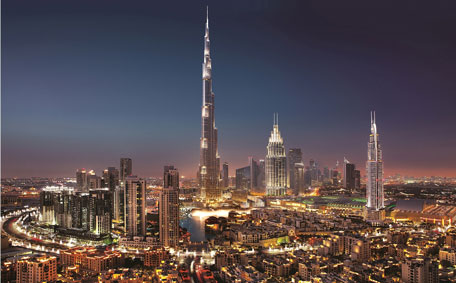 In 2016, Dubai will witness the completion of Marina 101 and The Address Residences The BVLD – allowing the emirate to continue to enjoy the distinction of being one of the cities in the world where the tallest and most iconic towers stand.
The above two towers are on a list of the global top 10 tallest towers to be completed in 2016, released by the Council on Tall Buildings and Urban Habitat (CTBUH).

The 427-metre-high Marina 101, developed by Sheffield Holdings Limited, in Dubai Marina will have 101 floors, and is listed fifth.
"We are expecting to commence handover of the project by April 2016," company Chairman Abuali Malik Shroff told Emirates 24|7.
The Address Residences The BVLD, (formerly called The Address The BVLD), being built by Emaar Properties, will have 72 floors and 368-metres high. It is ninth on the list.
"All concrete works are complete; electromechanical work is in progress up to floor 67 and façade works are in progress up to floor 71," the developer's website states.
It adds that the two spires at the peak of the project are being erected and work on the swimming pools is in progress.
The project is due for completion by August 2016.
CTBUH data reveals that a majority of the super hi-rises will be completed in China.
The tallest tower of 2016 will be Ping An Finance Center Shenzhen, 115 storeys, 599 metres.
The second slot goes to Goldin Finance 117 Tianjin, with 128 storeys, 597 metres, followed by Lotte World Tower Seoul, 123 storey, 555 metres.
At fourth position is Guangzhou CTF Finance Centre Guangzhou, 111 storeys, 530 metres.
In sixth and seventh place are Eton Place Dalian Tower 1 Dalian, 80 storeys, 383 metres, followed by Federation Towers - Vostok Tower Moscow, 95 storeys, 374 metres; and Dalian International Trade Center Dalian, 86 storeys, 370 metres.
The tenth position goes to Hon Kwok City Center Shenzhen, which 80 storeys and 329 metres high.

100, 200-metre-high towers
The council also expects completion of between 110 and 135 buildings with a height of 200 metres or more.
"Perhaps even more staggering is the fact that 18 to 27 of these buildings are expected to be in the supertall range.
Marina 101. (Supplied)
"If true, 2016 alone would see the global total of supertalls increase by 18 to 27 per cent. Unsurprisingly perhaps, the majority of these will be located in Asia and the Middle East," it adds.
Dubai still dominates the world in the supertall (300-plus-metre) skyscraper category, with the world now officially having 100 of them. The emirate has 18 such skyscrapers followed by New York with seven.

Read: Dubai world's No. 1 in supertall, mega-tall towers
Emirates 24|7 had reported earlier that five mega-tall tower will dot the Dubai skyline in the coming years.
These include RP Global's RP One in Business Bay; Meydan Group's 100-plus Entisar Tower and a proposed 711-metre-high Dubai One; and Dubai Multi Commodities Centre's Burj 2020 in Jumeirah Lakes Towers.
Follow Emirates 24|7 on Google News.