Dubai's new rules to list houses as 'Deluxe' for short-term rentals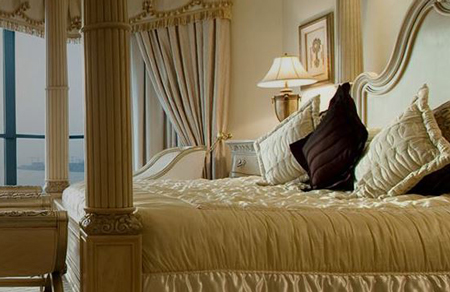 Dubai has announced a set of standards and regulations that residents and operators must adhere to if they wish to lease out holiday homes in the emirate.
As part of Dubai's objective to further diversify and increase its hospitality offering in line with its vision to attract 20 million visitors to the emirate by 2020, the emirate's tourism agency has outlined new regulations that specify the standards that should be met before a house can be leased out as a holiday home.
Dubai's Department of Tourism & Commerce Marketing (Dubai Tourism) has issued the regulations, which bring the Holiday Home segment in-line with Dubai's wider and best-in-class hotel and hotel apartment guidelines.
The agency also said that it will periodically inspect registered homes, which are classified as 'Standard' or 'Deluxe' depending on their offering, to maintain standards and issue penalties for non-compliance to regulatory demands.
The new set of rules detail specific criteria that homeowners need to meet to apply for a licence, including quality standards, amenities, health and safety, insurance necessities, code of conduct, and wider community integration, Dubai Tourism said in a statement.
Homeowners are required to use a Dubai Tourism-licensed operator to rent out their homes, who are accountable for ensuring the property meets all legislative requirements and complaint management policies, are sufficiently maintained and amenities and guest services provided for and are accurately listed to visitors.
Since June 15, 2014, the operating of residential properties for use as holiday homes has been restricted to licensed operators only.
Individuals and unlicensed companies that advertise or lease out homes on ad-hoc or short-term basis face fines of up to Dh100,000.
The regulations also stipulate specific requirements for operators to adhere to in order to obtain their license, further building market confidence in the sector though internationally-aligned governance.
"The decision to regulate Dubai's Holiday Home sector is to broaden the range of options available to visitors, while ensuring that the high standards of quality for which Dubai is known are maintained," said Khaled Bin Touq, Executive Director, Licensing and Classification Sector at Dubai Tourism.
"Visitors booking their accommodation through licensed operators will have the assurance that their accommodation has been classified in line with global best practices, while owners of properties will benefit from the expertise and marketing capabilities of the operator through who they rent out their property," he added.
"The Holiday Home market is a key facet to us achieving our long-term visitor goals in addition to delivering the right accommodation mix that is extremely well regulated and attractive to the diverse needs of travellers.
"Further, these regulations empower building management companies, developers and home associations to be an active player in ensuring the quality of Dubai's Holiday Home offering, driving a mutually beneficial increase of the emirate's overall destination competiveness and appeal."
To date, Dubai Tourism has already licensed 57 operators and registered more than 1,633 properties in line with the regulations.
Dubai Tourism has made fresh calls for all homeowners and operators to ensure they comply with all regulations and apply for necessary permits.
What classifies a holiday home in Dubai?
A holiday home is classified as a furnished accommodation which is rented as a whole unit on a daily, weekly, monthly or annual basis without the issuance of an Ejari regulated tenancy agreement and should be registered with Dubai Tourism.
The emirate's Vision for Tourism states that, by 2020, Dubai will welcome 20 million visitors per year, and the annual contribution made by tourism to the city's economy will triple.
It sets out how the city will both double its annual visitor numbers from 10 million in 2012 to 20 million in 2020, and increase the economic contribution of the tourism sector.
Early estimates from a study currently being conducted indicate that the current economic contribution of tourism is in the range of Dh100 billion.
How to apply to become Holiday Home Operator in Dubai
In order to apply for becoming a licensed operator, Dubai Tourism said that the interested party should visit https://hh.dtcm.gov.ae/holidayhomes/ and follow the registration process listed online.
Homeowners who wish to rent out their property as a holiday home will be required to use the services of a licensed operator, with their property becoming part of the operator's portfolio, Dubai Tourism noted.
Follow Emirates 24|7 on Google News.