Dubai Science Park showcases opportunities at its fourth annual Career Fair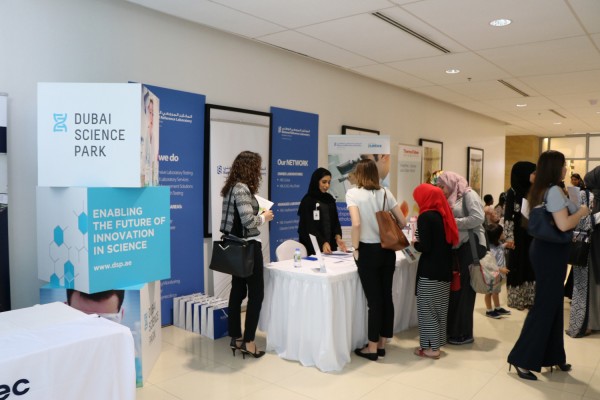 Dubai Science Park, DSP, a member of TECOM Group, recently hosted its fourth annual career fair for university students and professionals within the life sciences, energy and environment sectors.
A total of 16 industry-leading companies, including Olympus, Pharmax, Thermo Fisher Scientific, Dubaiomics, Phoenix Contact, Eurofragance, Sanofi and Energetics took part to showcase their businesses along with job and internship vacancies for aspiring graduates and university students alike.
The one day event took place at the Science Park's Laboratory Complex and featured a wide range of exhibitors.
As part of the fair, Momentum Coaching and Consulting hosted a workshop which covered a variety of topics including proactive job searching, networking for career opportunities, as well as CV writing and interview preparation tips.
Speaking on the occasion, Marwan Abdulaziz, Executive Director of Dubai Science Park, said, "Our annual career fair helps to bridge the gap between business and academia as we support our business partners in finding the right talent to support their growth and development.
Access to human capital is a key consideration for any business setting up a presence here in the UAE and we're delighted to be able to link our partners to leading academic institutions, offering majors in the life sciences, energy and environment sectors and help them find suitable qualified graduates."
He added, "Science is a key pillar in the strategic development of the UAE's burgeoning economy and we are committed to facilitating job and internship opportunities through such careers fairs, encouraging networking and dialogue between students and potential employers, creating opportunities for home-grown talent."
Dr. Yasser Ismail, President of Amerispec Diagnostics, said, "DSP's Career Fair is a valuable opportunity that supports our business and our growth objectives in the UAE and further afield. Our participation comes in line with our aim to develop local talent and provide opportunities to be part of a growing organisation as well as learn about the nature of our business from the ground up.
We are looking for the brightest talents interested in development of cutting edge clinical diagnostics to join us in achieving our vision to be the premier local partner for innovation and advancement in clinical and pharmaceutical research, and DSP's Career Fair helps us accomplish just that."
Follow Emirates 24|7 on Google News.