Dubai turns ice-rink into fashion runway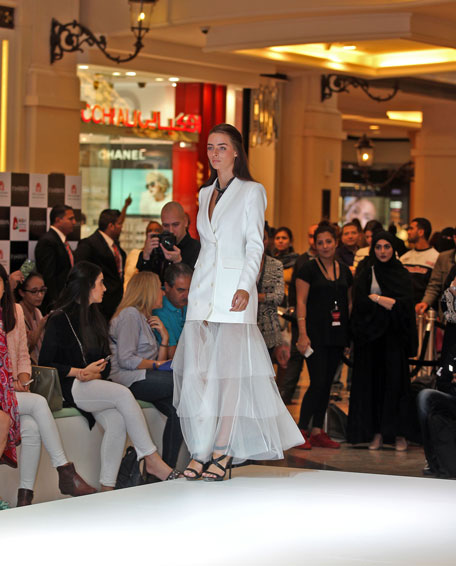 Fashion shows are so last season, right? But, not if the runway is on ice
After Dubai Metro and Burj Khalifa turned fashion ramps during the earlier editions of the Dubai Shopping Festival (DSF), the hosts stepped up the glam quotient this season by pitching fashion finery on ice.
Twenty models skipped their high heels for skates, and swerved through Dubai Mall's ice-rink to parade Galeries Lafayette's avant-garde collection. It wasn't just fashion on display, with the trained ice-skaters putting up an extravagant show of dance and music, centred around the theme – 'A journey from Arctic to Dubai'.
(Supplied)
As the curtains rolled up, the fashion ramp turned into winter wonderland with 'snowfall', icy blue lighting, and video projections of snowflakes, icicles and snowed landscapes. Soon, the images of ice melted away into the deep sea, as videos of whales and dolphins played out with the ice-skaters swaying to the soothing sounds of the sea.
The mood then shifted to a bright, colourful act where dramatic spins, jumps and lifts were received with awe and applause. As tunes of an Emirati song played out, the images of Dubai's iconic structures and metro set up the backdrop for the grand fashion finale.
(Supplied)
The show wrapped up with the dancers reuniting on stage, dressed in fuchsia and white, for their spectacular spins and moves.
DSF's fashion extravaganza doesn't end there, with the Dubai streets also decking up for fashionistas. Aptly titled 'Street Runways', models will strut their stuff at Al Fahidi, Burj Plaza downtown Dubai and Meena Bazaar.
(Supplied)
The Al Fahidi show, on January 18, saw models walking the alleyways of Al Bastakia area. The Burj Plaza runway on January 23 will feature the iconic Burj Khalifa as the backdrop. The Meena Bazaar runway on January 25 will put the spotlight on traditional Indian wedding wear.
Even the malls turned fashion circuits, with the Mall of the Emirates show on January 16, featuring latest collections from celebrated brands.
Follow Emirates 24|7 on Google News.