Dublin gang war: 2nd man shot dead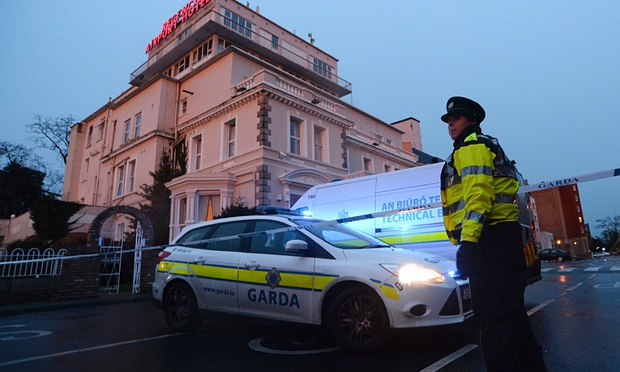 A man was shot dead in Dublin on Monday, Irish police said, in a suspected gangland reprisal attack for a fatal shooting at a boxing event last week.
Police said the man had been shot by masked men on a residential street in north central Dublin, in the latest attack thought to be related to a feud between Irish criminal gangs based domestically and in Spain.
"The man was aged in his 50s and it's believed that four men were involved in it," said a spokesman for An Garda Siochana police force.
"The scene has been preserved for a Garda technical examination and we are appealing for witnesses."
The victim was named by Ireland's national broadcaster RTE as Eddie Hutch, brother of the north Dublin crime figure known as "The Monk" and the uncle of Irish criminal Gary Hutch, whose 2015 killing in Spain is thought to have begun the feud.
It comes after gunmen dressed in police-style uniforms and carrying automatic rifles burst into a boxing weigh-in at Dublin's Regency Hotel on Friday, killing 33-year-old David Byrne and injuring two others.
A man who declared he was a spokesman for republican splinter group the Continuity IRA had claimed responsibility for the Friday attack on its behalf in a statement to the BBC.
But Irish national broadcaster RTE reported that a later statement, also purporting to be from the Continuity IRA, claimed the group "did not have any involvement" in the shooting.
Police have said that they suspect the killings to be related to organised crime, and justice minister Frances Fitzgerald described the events as a gang feud.
"Tonight's fatal shooting in Dublin is another deplorable example of the ruthlessness of gangland criminals," Frances Fitzgerald said in a statement to press.
"It seems that some gangs are intent on waging a feud where human life counts for nothing."
Fitzgerald is to meet with senior police figures to discuss the events on Tuesday.
'Clash of the clans'
Irish newspapers have reported that the killings are part of a feud between north Dublin gangsters and an Irish criminal group based in Spain dubbed the "Kinahan gang".
Irish police had noted the risk of retaliatory attacks and set up checkpoints on roads and armed patrols.
The police said at least six people were involved in the Friday shooting at the Regency Hotel - three of them uniformed and helmeted and carrying automatic weapons.
Witness Daithí Ó Nuanáin told RTE the gunmen were dressed as police. "I could see a man in the middle of the room looking around. He was wearing a bulletproof vest with 'Garda' written on it," he told RTE radio.
A man disguised as a woman also took part, police said.
Media images showed figures armed with handguns, one apparently wearing a wig, running from the scene which took place at the weigh-in for the "Clash of the Clans" boxing match, co-organised by Spain-based boxing gym MGM.
Lawmaker Gerry Adams, president of the Sinn Fein party once closely identified with the Provisional IRA, issued a statement blaming the attack on "criminal thugs" and questioning the apparent claim of responsibility by the Continuity IRA.
"I understand a group calling itself the Continuity IRA has claimed responsibility for the attack at the Regency Hotel," the statement from Adams read.
"They are not the IRA. The IRA are gone and their weapons are gone."
The Provisional IRA formally ended its military campaign against British rule in Northern Ireland in 2005 in the wake of a landmark peace agreement.
Dissident splinter groups that emerged since have carried out vigilante attacks on suspected drug dealers.
Follow Emirates 24|7 on Google News.