Earthquake kills child, injures dozens in Pakistan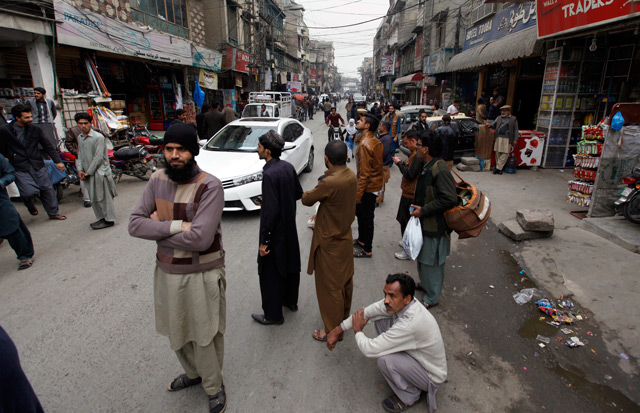 A 6.1 magnitude earthquake struck northeast Afghanistan on Wednesday, shaking large parts of the region and killing a child and injuring several people in neighbouring Pakistan, officials said.
The quake, which rattled buildings in the Afghan capital and was also felt in parts of India, struck 270 km (167 miles) northeast of Kabul in the Hindu Kush mountains, at a depth of 180 km, the European Mediterranean Seismological Centre said.
A baby girl was killed and 10 people were injured when roofs of mud-walled houses collapsed in the southwestern Pakistani province of Baluchistan, a district deputy chief, Shabbir Megnal, said.
There were no immediate reports of any serious damage or casualties in Afghanistan.
Large parts of the region are seismically active because a tectonic plate, known as the Indian plate, is pushing north into the Eurasian plate.
A 7.6-magnitude quake in northern Pakistan in October 2005 killed about 75,000 people.
6.1 magnitude quake rattles northern Afghanistan

A powerful 6.1 magnitude earthquake struck northern Afghanistan Wednesday, the US Geological Survey said, sending people in Kabul rushing into the streets and creating tremors as far away as Islamabad and New Delhi.
The quake struck at 0707 GMT near Afghanistan's northern border with Tajikistan in the Hindu Kush mountains at a depth of 191 kilometres (119 miles), the USGS said.
Frightened residents ran out of homes and shops following the tremor in Kabul. The city is already on edge after more than 130 people were killed in the last two weeks in a series of devastating militant attacks.
No casualties were immediately reported, the spokesman for Afghanistan's National Disaster Management Authority told 1TV.
The epicentre was near Jarm in Badakhshan province, scene of a devastating 7.5 magnitude quake in October 2015.
This time initial reports of damage were limited, local officials told AFP.
"We felt it in Faizabad (capital of Badakhshan). So far no reports of casualties but we are checking with people in Jarm district," said a spokesman for the provincial governor.
Large swathes of Badakhshan are controlled or contested by the Taliban, which could complicate efforts to assess damage and deliver aid.
Across the border in Pakistan, similar scenes played out in Islamabad, Peshawar and Lahore, where homes, offices and schools were quickly evacuated. Mild tremors were also felt in the Indian capital New Delhi.
At least one infant was killed and nine of her family members injured in southwest Pakistan's Balochistan province after the roof of their home collapsed, a local official said.
In Peshawar four girls were injured in a stampede as students fled a government girls' primary school in the northwestern provincial capital. All were reported in stable condition.
Pakistan's National Disaster Management Authority said it did not expect serious losses.
The 2015 earthquake in Badakhshan triggered landslides and flattened buildings, killing more than 380 people across the region including 248 in Pakistan.
Afghanistan is frequently hit by earthquakes, especially in the Hindu Kush near the junction of the Eurasian and Indian tectonic plates.
Aid agencies have stressed the need for greater disaster preparedness in the war-torn country, which remains extremely susceptible to natural disasters such as floods, earthquakes and landslides.
Follow Emirates 24|7 on Google News.