Egypt army backs people, holds fire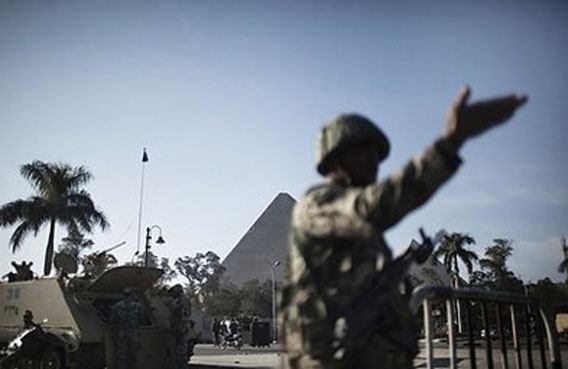 The all-powerful army came out in support of Egypt's people on Monday and vowed not to fire on protesters, who are demanding President Hosni Mubarak's ouster and have called a general strike.
In a political appeal, Egypt's new Vice President Omar Suleiman went on television to offer an "immediate" dialogue with the opposition.
"President Hosni Mubarak has tasked me with opening immediate talks with the political forces to begin a dialogue around all the issues concerning constitutional and legislative reforms," he said on state television.
Mubarak himself, in what was widely seen as a sop, announced a new cabinet line-up in which widely hated interior minister Habib al-Adly and the finance and culture ministers were axed.
In the face of week-long deadly protests, Arab League chief Amr Mussa, a former Egyptian foreign minister and highly popular figure tipped as a possible successor to Mubarak, called for a peaceful transition.
"There has to be a peaceful way forward, a peaceful transition ... from an era to the other," Mussa told AFP. "It is incumbent upon politicians or people working in politics to help that process."
Protesters massed in downtown Cairo vowed that Mubarak's resignation would not be enough, while Egypt's main opposition group, the Muslim Brotherhood, called for protesters to press on until they bring down his creaking regime.
Organisers announced an indefinite general strike and called for a "march of a million" in the capital on Tuesday, the eighth day of an uprising that has claimed at least 125 lives in clashes between demonstrators and police.
Another million-strong march was planned in the Mediterranean port city of Alexandria, as national train services were cancelled in an apparent bid to stymie protests.
The new protests will come as the hated police have returned to the street.
But while the police's posture to be adopted in the face of the strike and marches remains unknown, the Egyptian army stated clearly on Monday that it would not stop them.
"To the great people of Egypt, your armed forces, acknowledging the legitimate rights of the people," stress that "they have not and will not use force against the Egyptian people," the military said in a statement.
Tens of thousands of protesters carpeted Cairo's Tahrir Square, the epicentre of demands for an end to the corruption, deprivation and police oppression indelibly associated with Mubarak's 30-year rule.
"We will stay in the square, until the coward leaves," the crowd chanted.
The army has positioned tanks around the area and was checking identity papers but letting protesters through. Civilian "popular committee" members were also checking papers to ensure no plainclothes police joined the ranks.
"We are looking for police trouble-makers. They want to come in and break our unity," said one volunteer, asking not to be named.
Eid Mohammed, an organiser of the protests, told AFP: "It was decided overnight that there will be a million-man march on Tuesday. We have also decided to begin an open-ended general strike."
Faced with the prospect of massive numbers trying to converge on the capital, Egyptian authorities stopped all train traffic with immediate effect on Monday afternoon.
And state-owned national carrier EgyptAir said it was cancelling all domestic and international flights from 3 pm (1300 GMT) to 8 am (0600 GMT) until further notice, coinciding with a curfew in Cairo, Alexandria and Suez.
Faced with the biggest protests of his presidency, an increasingly embattled Mubarak has appointed his first-ever vice president and a new prime minister in a desperate attempt to hold on to power.
The new cabinet unveiled on Monday did little to placate the protesters. However, the departure of Adly, whose notorious security forces have been accused of systematic human rights violations, was welcomed.
"We will accept no change other than Mubarak's departure," said one protester who asked not to be named.
Another, Rifat Ressat, said: "We want a complete change of government, with a civilian authority."
Adly's exit had been a key demand of protesters over the past week. They have also called for an end to corruption and oppression.
The Muslim Brotherhood rejected the new cabinet and urged protesters "to continue with their activities ... and join the mass marches all around the country until this regime leaves."
Police were ordered back onto the streets nationwide on Monday, after a two-day absence during which the army was deployed in the face of the revolt, but few policemen were visible on Cairo's streets.
Their vanishing act remains unexplained officially, but it left the city prey to looters and jail-breakers, and residents formed self-defence groups to protect their patches.
Amid chaos and lawlessness, several foreign governments said they would evacuate their nationals, while the United States authorised the departure of embassy families.
Egyptian police briefly detained six foreign Al-Jazeera journalists in Cairo on Monday, a day after authorities moved to shut down the channel's coverage of protests, watched by millions around the Arab world.
Meanwhile, Israeli Prime Minister Benjamin Netanyahu warned of what he said were the dangers of an Iranian-style regime led by Islamic extremists emerging from Egypt's protests.
"In a time of chaos, an organised Islamic group can take over the state. It happened in Iran and it also happened in other places," he said.
Israeli media said Egypt was to move around 800 more troops into the Sinai peninsula to where the anti-regime protests had spread, boosting the numbers agreed under 1979 Israeli-Egyptian peace accords.
Washington, a key ally of Egypt, has urged Mubarak to do more to defuse the crisis, with President Barack Obama calling for "an orderly transition to a government that is responsive to the aspirations of the Egyptian people."
The army has since set up checkpoints on roads to riot-hit prisons, stopping and searching cars for prisoners on the run.
But many petrol stations are running out of fuel, motorists said, and several bank cash machines have either been looted or no longer work. Banks were shut for a third straight day on Monday.
The turmoil in Egypt is affecting the world economy, with oil prices rising to within a whisker of ê100 a barrel Monday on fears that the flow of oil through the Suez Canal on its way to the West could be affected.
And rating agency Moody's said it has downgraded Egypt's debt rating by one notch to Ba2, and changed the country's outlook to negative from stable.
Follow Emirates 24|7 on Google News.