Egypt court sentences 21 to death; Army deployed in Port Said after 22 killed in riots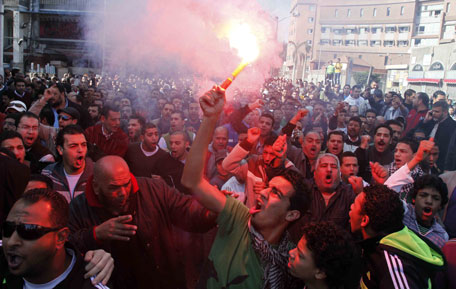 Egyptian security officials say 22 people have been killed in riots sparked by death sentences given to nearly two dozen soccer fans convicted of violence after a game in Port Said last year.
The security officials say most were killed in assaults on the governor's office, courthouse and prison after the sentence was handed down during a trial outside Cairo. They say two policemen also were shot to death outside the city's main prison when angry relatives tried to storm the facility.
The military has been deployed to try and restore security.
The judge sentenced 21 people to death in connection with the Feb. 1, 2012, soccer melee that killed 74 fans of the Cairo-based Al-Ahly team.
The security officials spoke on condition of anonymity in line with regulations.
Earlier, an Egyptian court on Saturday sentenced to death 21 people found guilty of involvement in the Port Said soccer stadium disaster in which 74 people died last year.
The ruling could help reduce prospects of fresh clashes on Egypt's turbulent streets. Soccer fans and families of those killed had threatened more violence if the punishments did not satisfy them, and many had demanded the accused be executed.
The ruling followed nine deaths during protests nationwide on Friday and early on Saturday, held to mark two years since Egypt's revolution forced strongman Hosni Mubarak from power and to accuse President Mohamed Mursi and his Islamist allies of reimposing authoritarian rule.
The judge, Sobhy Abdel Maguid, read out a list of 21 names "referred to the Mufti", a phrase used to denote a death verdict as all such sentences must be reviewed by Egypt's top religious authority.
Seventy-three people have been charged with involvement in the Feb. 1, 2012 disaster at the end of a match between Cairo's Al Ahly and al-Masry, the local side.
Spectators were crushed when panicked crowds tried to escape from the stadium after a post-match pitch invasion by supporters of al-Masry. Others fell or were thrown from terraces, witnesses said.
Many of those who died were supporters of Al Ahly.
The verdicts for others accused will be announced on March 9, said the judge, who had called for calm in the court before and during the reading of the ruling.
In response to the sentences, supporters gathered at Al Ahly club in Cairo cheered. In the courtroom on the outskirts of Cairo, familes of victims clapped and some wept with emotion.
"God is greatest" one shouted, while others held up pictures of the victims.
People gathered near the Port Said prison where most of the suspects were held. State television reported the sound of gunshots and said police fired tear gas in the area.
Relatives of defendants sentenced to death over Egypt's deadliest football disaster on Saturday tried to storm the prison where they were being held, state television said.
The unrest erupted just minutes after an Egyptian court referred the convictions of 21 defendants to the country's top cleric the Grand Mufti for his final authorisation to carry out their death sentences, as is customary.
11 killed in Port Said
At least 11 people were killed in Port Said on Saturday in a rampage by protesters angry that a court had sentenced 21 people to death over a soccer stadium disaster that killed 74 last year.
Armoured vehicles and military police were deployed on the streets of the Mediterranean city. The state news agency quoted a general as saying the military was sent to "establish calm and stability in Port Said and to protect public institutions".
Security sources said the latest deaths brought to 20 the number killed in three days of violence, and hundreds have been injured.
The unrest began with rallies to mark the second anniversary of the overthrow of autocrat Hosni Mubarak in a revolution which the protesters accuse current
President Mohamed Mursi and his Islamist allies of betraying.
The schism is hindering efforts by Mursi, elected in June, to revive an economy in crisis and reverse a plunge in Egypt's currency by enticing back investors and tourists.
Nine people were killed in Friday's violence, most in the port city of Suez, where the army has also been deployed.
Saturday's violence in Port Said erupted when a court sentenced 21 men, most of them from the city, to death for involvement in the disaster in the city's soccer stadium on Feb. 1, 2012.
Many spectators were crushed and witnesses saw some thrown off balconies after the match between Cairo's Al Ahly and local team al-Masri. Many of those killed were from the visiting team's supporters.
Families of victims in court cheered and wept for joy when Judge Sobhy Abdel Maguid read a list of 21 names "referred to the Mufti", a phrase used to denote execution, as all death sentences must be reviewed by Egypt's top religious authority.
A total of 73 people have been standing trial. Other rulings will be issued on March 9, the judge said.
One relative of a victim in the court shouted: "God is greatest." Outside Al Ahly club in Cairo, supporters also cheered. Fans had threatened fresh violence unless the death penalty was meted out.

GUNSHOTS NEAR PRISON
But in Port Said residents rampaged through the streets in anger that people from their city had been blamed. Gunshots were reported near the prison where most of the convicted men are being held.
One security source reported 11 killed in the violence, while two other sources put Saturday's toll at 12. At least two of the dead were policemen.
A witness said some men stormed a police station.
Thousands took to the streets of Cairo, Alexandria and other cities on Friday to protest against what they call the authoritarianism of Mursi's rule.
"We want to change the president and the government. We are tired of this regime. Nothing has changed," said Mahmoud Suleiman, 22, in Cairo's Tahrir Square, the cauldron of the 2011 revolt. Nearby, youths hurled stones at police early on Saturday.
"The protests will continue until we realise all the demands of the revolution - bread, freedom and social justice," said Ahmed Salama, 28, a protester camped out with dozens of others in Tahrir.
Mursi's supporters say their critics are ignoring democratic principles, after elections swept the Islamists to office.
In a statement in response to Friday's violence, Mursi said the state would not hesitate in "pursuing the criminals and delivering them to justice". He urged Egyptians to respect the principles of the revolution by expressing views peacefully.
The president was due to meet later on Saturday with the National Defence Council, which includes senior ministers and security officials, to discuss the violence.
Unrest has been stoked by Mursi's decision to fast-track an Islamist-tinged constitution rejected by his opponents.

Inspired by the popular uprising in Tunisia, Egypt's revolution spurred further revolts across the Arab world. But the sense of common purpose that united Egyptians two years ago has given way to internal strife that triggered bloody street battles last month.
Follow Emirates 24|7 on Google News.