Egyptians stage massive anti-Mubarak protest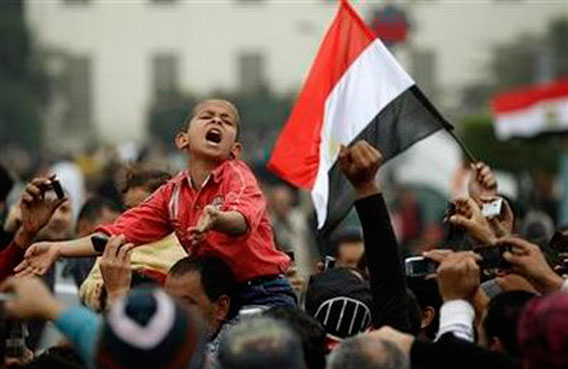 Egyptians have staged one of their biggest protests yet insisting President Hosni Mubarak step down immediately and ignoring a government plan to transfer power.
For many protesters it was the first time they had joined the daily demonstrations in Cairo's Tahrir Square showing the movement, now in its third week, still has momentum.
Many said they were inspired by a Google executive's tearful televised account of his detention by security forces.
Mubarak has refused to step down, but said neither he nor his son will stand for president in polls due in September. Vice President Omar Suleiman, who has been holding talks with opposition groups, said there was now a road map to hand over power, but protesters were unmoved by the plan.
"The people want the regime to fall," the crowds chanted.
Meanwhile, Suleiman blamed the protests for paralysing the Egyptian economy.
"The big presence in Tahrir Square and some of the satellite stations which insult Egypt ... make citizens hesitant to go to work," he said.
Suleiman said: "We cannot bear this situation for a long time and we must end this crisis as soon as possible".
Credit Agricole analysts estimate the crisis is costing Egypt $310 million a day.
FRIDAY THE BIG TEST
Government attempts to defuse popular anger have so far fallen flat and the police force, state media and ruling party have all been weakened. Mubarak has the army left, though it has taken a neutral position in the crisis.
For the protesters, maintaining impetus is crucial. Some of them fear that a protracted stalemate will sap enthusiasm and draw more criticism from Egyptians who are not in the street but are feeling the economic impact of the turmoil.
Many in a country where about 40 percent of people live on less than $2 a day are desperate to return to work and normal life, even some of those wanting to oust Mubarak.
A protest called for Friday will be a big test of strength.
The numbers of Tuesday's protest were boosted by Google executive Wael Ghonim's emotional account of being blindfolded during 12 days in detention for Internet activism.
"You are the heroes. I am not a hero, you are the heroes," Ghonim told the cheering crowds.
Ghonim has for now at least been thrust to the forefront of a protest movement that has yet to produce a leader.
Later Ghonim expressed his sorrow for the victims of the violence that has claimed an estimated 300 lives.
"I saw young people dying and now the president has a responsibility to see what the people demand," he told Reuters.
U.S. Vice President Joe Biden pressed Suleiman for an orderly transition of power that is "prompt, meaningful, peaceful and legitimate", the White House said, and called for the immediate lifting of Egypt's emergency law.
The state news agency said 34 political prisoners had been released, the first to be set free since Mubarak promised reforms to quell the uprising. The White House called on Egypt to free all arrested protesters and journalists immediately.
"The government has got to stop arresting protesters and journalists, harassment, beatings, detentions of reporters, of activists, of those involved in civil society," White House spokesman Robert Gibbs said at a daily media briefing.
Follow Emirates 24|7 on Google News.